By: Liz Delaney, Program Director, EDF Climate Corps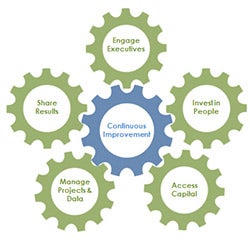 Energy management can be complicated, and the projects organizations must tackle run the gamut: from small-scale lighting and HVAC upgrades to whole building retrofits; from baselining energy consumption to data analysis of enterprise-wide energy management systems; and from volunteer employee engagement programs to executive-level goal setting.
So if you're an energy manager, there's no doubt you're busy! But, when you're deep in the middle of so many weeds, what's not often clear is: Is your organization making real progress to improve the way it thinks about and manages energy? What does real progress look like?
Several years ago, Environmental Defense Fund (EDF) and partner MIT started to address these questions through the  development of a framework for strategic energy management. This framework shows successful programs depend on a holistic and multi-faceted management approach—one where five focus areas work in concert to create a virtuous cycle of continuous improvement. Read More »