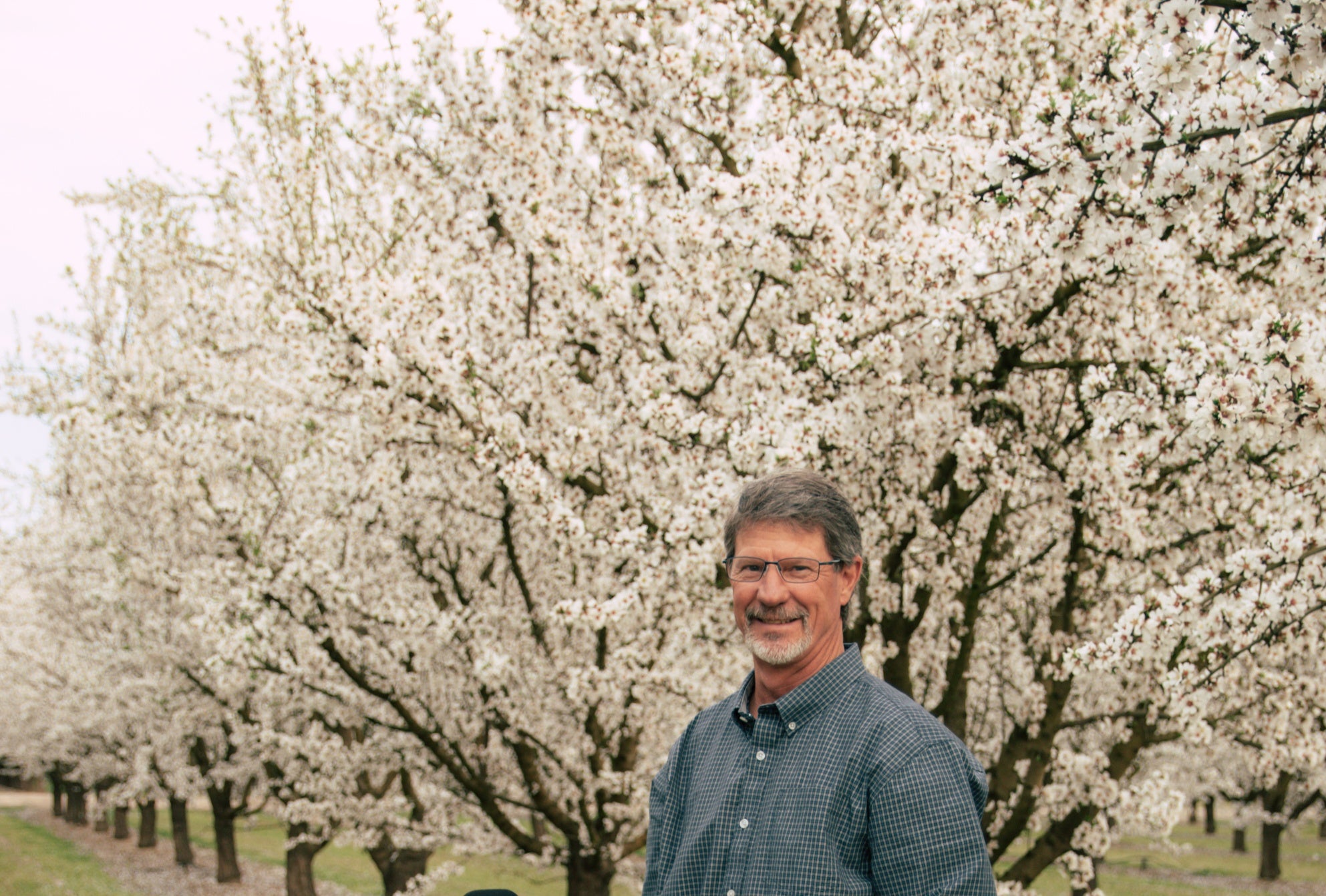 This blog is part of a series of profiles on Water Leadership Institute graduates. Sign up to participate in the Leadership Institute at www.edf.org/waterleadership or www.edf.org/agualiderazgo.
Donny Hicks knows almonds. He is a longtime almond farmer near Modesto, works as a field representative for the almond processor Hughson Nut and is a member of the task force for the Almond Board's sustainability program. Already experiencing water cuts firsthand, Donny participated in the Leadership Institute, a program led by EDF and the Rural Conservation Assistance Corporation, last year to better understand water issues in his area. He was surprised to learn much more. Read on to learn what Donny gained from the institute and how he is adapting to water scarcity by working with another institute graduate, Joseph Gallegos, to test a new innovative irrigation system.
Tell us more about your almond farm and your community.
I've been in the industry for over 10 years and farming close to 20 years. I have an 18-acre small farm in Hughson, a very small town a couple of miles east of Modesto out in the country. I can see Half Dome on a clear day.
I also work as a field representative covering Merced and Northern California. I help my growers improve production and their return on investment.
How has the drought affected you and your community?
Water is a major challenge. We are going through a very difficult drought. I have to applaud the Turlock Irrigation District; they've done a great job managing our reservoir. They were able to give us a good amount of water, but it's still less than what's needed. I got 27 inches of surface water this year for a crop that needs 50 inches. I have a deep well to supplement with groundwater but don't want to pump too much because I am trying to protect my domestic well. My lawn looks terrible, all dried up; I'd rather have water for our house and the almonds than our lawn.
They talk about California being the Golden State. Our gold today is not what miners used to dig for in our foothills. Our gold is water — in the rainfall, snowpack and groundwater.
But it feels like California is always in a drought. Even when we've had a bunch of rainfall, you know in a couple years it's going to be dry again.
Why did you participate in the Leadership Institute and what did you gain?
I learned a lot from the institute about local groundwater management, our groundwater sustainability agency and how it will implement the Sustainable Groundwater Management Act (SGMA) — what to expect and how it will affect growers. That was the number one reason I participated in the Leadership Institute.
A lot of growers don't know what is going to happen with SGMA. I felt like I got the inside scoop about it from the Leadership Institute. It's been nice to be able to relay that to the growers I work with.
I went into the institute thinking that information on the sustainability agency would be the main focus, but it is a very well-rounded program that provides a lot of extra information.
I was surprised how much I learned about leadership and communications. I enjoyed the session on personality types. A training we had on talking in front of people was really helpful because I have had to do videos on sustainability for the Almond Board.
What opportunities do you see for water conservation?
We have already probably saved 30% of the water we have traditionally put on our trees from switching from flood irrigation to drip irrigation, so we're now about 90% efficient.
Going forward, I'm excited about this subsurface irrigation system I'm testing with Joseph. I sacrificed four rows of trees to test the new system and got 2,200 pounds of almonds per acre, compared to 4,000 pounds on my other trees. I knew I wouldn't get as high of return, but we only used 8 inches of water, compared to 42 inches of applied water in the typical growing season. Those were great results.
When SGMA kicks in, a lot of farmers will see their water reduced to 8 or 10 inches a year, so this subsurface irrigation may be a viable way to help people keep their livelihoods.
How does the new system work?
Most subsurface irrigation today is drip tape or drip lines that are buried a foot into the ground. That does work a little better than having them on top, but you run into gopher issues and still lose water to evaporation because some water rises to the surface.
This new irrigation is buried 4 feet into the ground and is gravity fed every hour for just a minute, with the water going into the root zone. There's also energy savings.
If this works, it can be a gamechanger not just for almond growers but other growers, too.
As water becomes even scarcer, everyone needs to stay on top of water issues and get involved. Participating in the Leadership Institute is a great way to become more educated about water and get to know others better in your community.
Sign up by July 25 to participate in the next cohort of the Leadership Institute in Tulare and Kern counties at www.edf.org/waterleadership or www.edf.org/agualiderazgo.