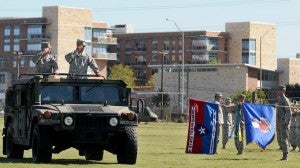 This year has seen historic flooding across the South. In addition to the devastating rains that recently hit Louisiana, severe floods pummeled Texas earlier this year. In both cases, the states' National Guards were first responders, rescuing families, delivering meals and supplies to survivors, and providing local agencies with high-water trucks, boats, and helicopters.
As the frequency of extreme weather events like these increases, it is imperative that the National Guard can continue devoting resources to critical, first-responder services. But in Texas, those services could be threatened by the state's dwindling water supplies.
A new study from CNA Analysis & Solutions, funded by Environmental Defense Fund and in collaboration with the Texas Army National Guard (TXARNG), shows many Texas defense facilities are in water-stressed counties. Over time, this could result not only in higher water costs, but also power production constraints, since it requires a lot of water to produce and move electricity from traditional energy sources like coal and natural gas. Both of these challenges pose a direct threat to the budget and operating capabilities of the TXARNG. Fortunately, the analysis also indicates these same areas have great potential for solar energy, which requires little to no water to meet power needs on-site.
By tapping into that potential and pursuing bolder energy efficiency initiatives, TXARNG could ease pressure on the electric grid and reduce utility bills, all while safeguarding residents and precious water supplies. Read More »