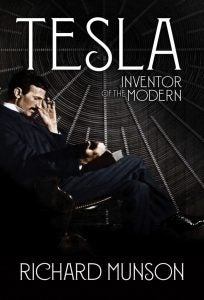 On September 12, 2018, Environmental Defense Fund will host Dick Munson for a Q&A and book signing for his new book Tesla, Inventor of the Modern. Please join us in Austin at 301 Congress Ave., Suite 1300, from 11:30 am – 12:30 pm.
Nikola Tesla gave us the electric motor, long-distance electricity transmission, radio, robots, and remote control — the very foundations of our modern economy. Perhaps less well known is that he also was a clean-energy pioneer, and he remains an inspiration to today's solar and battery entrepreneurs, including Elon Musk, who views him as a hero and contributed $1 million to help restore Tesla's laboratory on Long Island.
Tesla marked his clean-energy leadership with a 1900 article in The Century — then the nation's largest-circulation periodical. Published 118 years ago, "The Problem of Increasing Human Energy, with Special References to the Harnessing of the Sun's Energy" was one of the earliest, detailed looks at capturing power from the sun and wind.
At his core, Tesla appreciated efficiency and hated energy waste, complaining that we "do not utilize more than 2 percent of coal's energy" to make electricity. "The man who should stop this senseless waste would be a great benefactor of humanity," he declared. Read More »