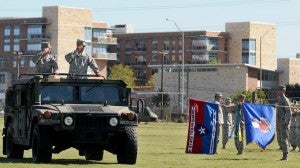 This year has seen historic flooding across the South. In addition to the devastating rains that recently hit Louisiana, severe floods pummeled Texas earlier this year. In both cases, the states' National Guards were first responders, rescuing families, delivering meals and supplies to survivors, and providing local agencies with high-water trucks, boats, and helicopters.
As the frequency of extreme weather events like these increases, it is imperative that the National Guard can continue devoting resources to critical, first-responder services. But in Texas, those services could be threatened by the state's dwindling water supplies.
A new study from CNA Analysis & Solutions, funded by Environmental Defense Fund and in collaboration with the Texas Army National Guard (TXARNG), shows many Texas defense facilities are in water-stressed counties. Over time, this could result not only in higher water costs, but also power production constraints, since it requires a lot of water to produce and move electricity from traditional energy sources like coal and natural gas. Both of these challenges pose a direct threat to the budget and operating capabilities of the TXARNG. Fortunately, the analysis also indicates these same areas have great potential for solar energy, which requires little to no water to meet power needs on-site.
By tapping into that potential and pursuing bolder energy efficiency initiatives, TXARNG could ease pressure on the electric grid and reduce utility bills, all while safeguarding residents and precious water supplies.
Impressive solar potential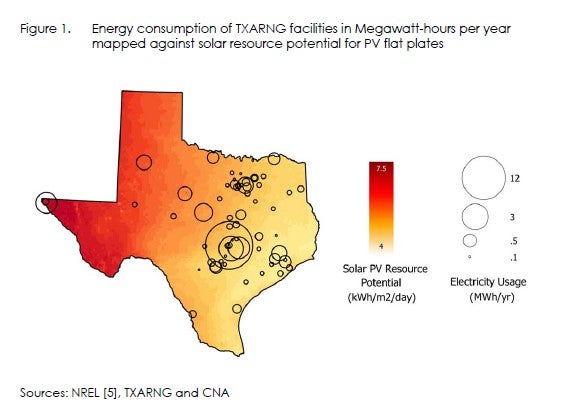 The TXARNG is a component of the Texas Military Department, and has about 19,000 soldiers operating out of 77 facilities across the state. The new study mapped water stress and the potential for solar, wind, and geothermal energy at 60 of these facilities (17 rental spaces with no purchasing power over energy choices were excluded).
Due to facility age and the nature of operations, many locations require a lot of power to keep humming. For example, seven of the 60 facilities use more than 1 million kilowatt-hours (kWh) of electricity per year each, which is equivalent to 104 homes' electricity use for one year. The largest installation and the Texas National Guard's headquarters, Camp Mabry in Austin, uses more than 1,200 homes' electricity use for one year.
Among the findings, the potential and need for solar power in Texas stands out. Here's how:
More than 20 of the TXARNG facilities studied have significant solar potential on a daily basis. For context, sunny states like California, Texas, and Florida all average about five kilowatt hours per square meter per day (kWh/m2/day) solar potential statewide, while states like Maine and Minnesota come closer to 3.5 kWh/m2/day (kWh/m2 is sometimes called a "sun hour" and is the equivalent of one full hour of sun—the higher the number, the greater solar potential). But the most promising TXARNG facilities studied have more than five kWh/m2/day solar potential, meaning there is a great opportunity to take advantage of the sun's rays at TXARNG installations.
Average electricity prices for nearly 20 of the facilities, including some of the largest, is $0.10 per kWh or higher (the average electricity price in Texas is about $0.08 per kWh). Relatively high prices means an opportunity to lower expenses by exploring on-site power sources, like solar, or cutting energy use through efficiency.
By 2050, rain in Texas could decrease by five inches or more in the eastern half of the state and up to 2.5 inches in the western part of the state. Less rain means less water available to make electricity using traditional methods.
Moreover, this study shows that it makes sense to match high energy demand with high potential for solar electricity. For example, the Lubbock site has the sixth-highest energy use and fourth-highest solar potential, presenting a clear opportunity to reduce pressure on the grid by meeting demand with on-site solar.
Plus, as the cost of solar continues to decrease, especially in relation to conventional fuel sources, the economics make more and more sense.
Conserving energy, saving money
As the study puts it, "investments in energy efficiency could also be very cost-effective and have the advantage of being independent of location." In other words, whereas solar potential relies on factors like cloud coverage, all military facilities in Texas can implement energy efficiency initiatives – regardless of the site's natural surroundings or environmental conditions. Projects to enhance efficiency could include retrofitting or updating boilers, lighting, or heating, ventilation, and air conditioning systems.
Energy efficiency is also a win-win from an environmental and cost perspective. To start, the resource is both pollution and water-free. The study also cites data that compares the cost of different energy sources, and efficiency has the lowest cost range to implement. Plus, lowering energy use through efficiency could help reduce energy bills, freeing up money to potentially spend on training and equipment rather than high electricity bills.

Easing water woes
How do all of these pieces fit together for the TXARNG? Some facilities exhibit a confluence of factors that indicate prime locations for the deployment of low-water intensity energy resources. For example, Fort Bliss Readiness Center in El Paso has the third-highest electricity use (2.3 million kWh per year), the highest solar potential, the most extreme category of future water stress, and one of the highest electricity prices. Taken together, these factors indicate that Fort Bliss would be well-suited for targeted energy efficiency and solar deployment to reduce water demand and electric bills.
With a future of water stress in its sights, the Texas Army National Guard now possesses a powerful weapon in its arsenal: data to know where to target low-water-intensity energy resources like solar and energy efficiency. These investments will ensure the military agency has the option to devote more of its resources to critical missions rather than energy and water bills. Moreover, although the study was specific to the Army branch, the results can help inform investment decisions for the entire Texas National Guard. With a strategy laid out, the TXARNG can continue defending not only Texans, but its future energy and water supplies.