Cutting emissions is about creating opportunities for new, clean energy sources, not about crashing economies.
The Great Recession saw a crash with the most severe consequences for employment and other measures of economic output since the Great Depression. Emissions responded in kind.
Pierre Friedlingstein and a slew of co-authors provide an "Update on CO2 emissions" in the latest Nature Geoscience (HT: BBC):  Global CO2 emissions declined by 1.3% in 2009. No surprise there, although the decline was lower than projected. (A closer look at the breakdown doesn't come as much of a surprise, either: U.S. emissions declined by almost 7% in line with miserable economic figures. Chinese emissions increased once again, by +8%, in line with its continuing strong economic growth.)
The disconcerting part: global emissions are scheduled to shoot right back up in 2010 and then some at +3%.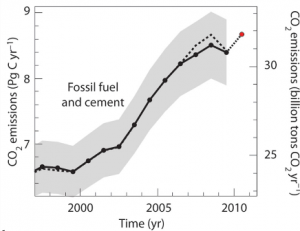 The atmosphere barely notices these kinks in the general trend line, which continues to march up unabated. Crashing economies doesn't do anyone any good. The charge is to decouple emissions from economic development and start bending the curve [PDF].