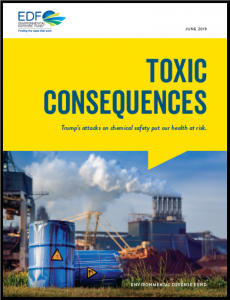 Sam Lovell, Project Manager.
Today, EDF released a report detailing the major threats to public health and future generations from the Trump Environmental Protection Agency's (EPA) attacks on the 2016 chemical safety law. Just three years after Congress passed bipartisan legislation, the Lautenberg Act, to overhaul the Toxic Substances Control Act (TSCA), implementation of the law has gone dangerously off the rails – putting public health at risk.
"At almost every turn, the Trump administration has failed to live up to the letter and spirit of the historic bipartisan reform of TSCA that Congress passed in 2016. Toxic chemicals can cause cancers and other life-threatening illness. The American people expect the Environmental Protection Agency to live up to its mission and to protect them from these threats.  At the three-year anniversary of our overwhelmingly bipartisan reform of TSCA, EPA continues to ignore expert scientific staff and walk back protections for workers and consumers. " said Senator Tom Udall.  "EPA leaders – starting with Andrew Wheeler – must change course, commit themselves to protecting the public, and carry out the Lautenberg Act as Congress wrote it."
The report notes that recent history holds countless stark examples of what can happen when chemical risks are not adequately addressed. We risk making similar mistakes unless the current EPA fundamentally changes course in its implementation of the law. The Trump Administration is allowing new chemicals onto the market with little or no health information and only cursory safety reviews; ignoring real-world exposures when evaluating chemicals already in use today; blocking needed restrictions on dangerous uses of toxic chemicals; and denying the public access to health information on chemicals. These are not merely process problems: the consequences of the Trump EPA's actions will be felt by our children and subsequent generations.