Maria Doa, Ph.D., Senior Director, Chemicals Policy
EPA has made the important and long-awaited decision to propose banning nearly all remaining uses of chrysotile asbestos in the United States. EDF submitted comments supporting this proposed ban (with some caveats) because of the high risk of cancer and fatal respiratory diseases for individuals who import, process, distribute, and use chrysotile asbestos. The rule could be significantly improved by requiring a more immediate ban. If EPA chooses a more extended phase-in of the ban, we recommend that the Agency require companies to reduce workplace exposures in the interim to better protect workers.
Summary of Key EDF Concerns and Comments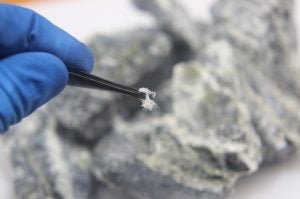 Although asbestos is a known carcinogen, it is still used in automobile brake linings, gaskets, and brake blocks, as well as in permeable separators (diaphragms) at chlor-alkali facilities to produce chlorine and caustic soda. Currently, nearly 40,000 Americans die each year from asbestos-related illnesses. These deaths are preventable and must be stopped, and we applaud EPA for taking this step toward doing so.
EDF supports rapid implementation of EPA's proposed chrysotile asbestos ban. Given the unreasonable risk posed by asbestos, we call on EPA to start the ban for all uses within 6 months after publishing the finalized rule.
In the event EPA chooses an extended phase-in (>6 months) of the ban on using chrysotile asbestos in chlor-alkali diaphragms and sheet gaskets, it should require companies to reduce workplace exposures during the interim in a way that poses the least risk to potentially exposed populations—particularly workers. In this case, we call on EPA to require hazard communication and the hierarchy of controls—first by reducing exposure through process, engineering, or administrative changes. Personal protective equipment (PPE) as a risk-reduction measure should be used only after applying these other controls to reduce chemical exposures. However, this approach would be less effective and more burdensome on workers than eliminating exposure completely and should be used only as a short-term, interim measure until the ban goes into effect.
EPA should explain how its proposed disposal requirements address the unreasonable risk presented by chrysotile asbestos. EDF is concerned that EPA has not demonstrated how compliance with OSHA's Asbestos General Industry Standard and EPA's National Emission Standards for Hazardous Air Pollutants would eliminate unreasonable risk, as TSCA requires.
EPA underestimates the benefits of preventing health impacts by banning chrysotile asbestos. In baseline exposure calculations, the Agency inappropriately assumes that workers will consistently and correctly use PPE while handling chrysotile asbestos and dramatically underestimates how many individuals will benefit from the rule. EPA should bolster its Economic Analysis in the final rule to more accurately reflect the benefits of the ban.
In addition, the proposed rule indicates EPA is continuing to include troubling policy decisions in its risk evaluations. Moving forward:
EPA should not consider costs or other non-risk factors in risk evaluations. EPA states it will consider use of PPE and other risk-management activities in its risk evaluations to help in making risk-management decisions—an approach that is not scientifically supportable and inappropriately conflates risk assessment with risk management.
EPA should not inappropriately treat workers differently from the general population by applying a less-protective cancer benchmark for workers. TSCA does not support this approach. Given that workers are particularly identified in TSCA for consideration and often face higher risks than the general population, making a less-protective standard is especially unjustified. (See our June 21, 2022 blog post on this issue.)
EDF also found many areas of agreement with EPA in the proposed risk-management rule. You can read the full set of comments here.