Samantha Lovell is a Project Specialist.
[Update added November 17: On October 25, the Senate Committee on Environment and Public Works voted to advance Michael Dourson's nomination to oversee chemical safety at the EPA. The fight is now in the full Senate, where two Republican senators have already come out against Dourson. With Democrats standing in strong opposition to this toxic nominee, Dourson's nomination will not move forward if one more Republican senator comes out against him.]
[Use this link to see all of our posts on Dourson.]
In past blogs, we have documented deep concerns about Dourson's extensive, longstanding ties to the chemical industry in addition to his earlier work for the tobacco industry. Dourson and his company Toxicology Excellence for Risk Assessment (TERA) were paid for their work by more than three dozen companies or trade associations, involving at least three dozen different chemicals.
Several recent news stories and reports have identified examples where Dourson or TERA helped industry play down health concerns about chemicals, including Dourson's work in West Virginia involving the "Teflon" chemical PFOA and his study funded by Koch Industries in Chicago involving petroleum coke.
To illustrate the real-world impacts of his work, we have identified locations across the country where eight of the chemicals that Dourson has "blessed" have stirred concerns from residents about polluted water, soil, and air or poisoned residents and workers.
Using local and national news articles, and limiting our search to only eight of the many chemicals Dourson has been paid by industry to study, we identified 107 locations in 49 states. Each location is a place where a news story refers to one of the eight chemicals polluting the water, soil, or air or poisoning residents or workers in the area.
Our results – displayed in the map below – are by no means comprehensive, and represent only a fraction of locations affected by chemicals Dourson has worked on for industry clients. The map reveals that the entire country has experienced direct impacts from chemicals that Dourson has argued should have less health-protective standards.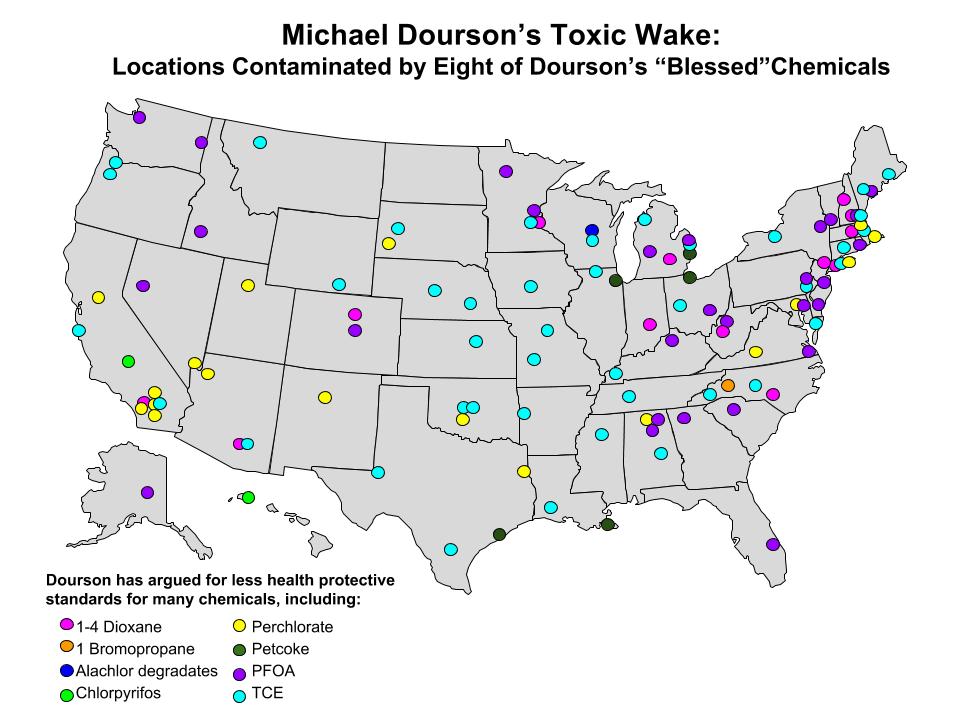 While we didn't identify a contamination location involving one of the eight chemicals in North Dakota, residents are still likely impacted by many of these chemicals. And, given Dourson's work on chemicals like flame retardants that have pervaded every home in America, no one can escape the impacts of the chemicals Dourson has "blessed."
For a full list of the news articles and chemical contamination locations by state, click here. In addition, Environmental Working Group (EWG) has posted interactive maps showing the extent of tap water contamination with 2 of these chemicals, 1-4 dioxane and PFOA, across the nation.
A few examples of the stories represented by the points on the map above include:
Communities affected by Dourson "blessed" chemicals should urge their Senators to oppose Dourson's appointment.
We need strong leadership in the EPA toxics office to ensure successful implementation of the newly reformed TSCA and to protect the health of all Americans from toxic chemicals and pesticides.
Otherwise, with Michael Dourson in charge, we'll just see an even bigger toxic wake.
---
Current EPA political appointees already include a number of industry insiders.
Click here to see brief thumbnails on individuals who have already been installed.