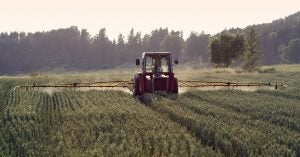 Applying the right amount of fertilizer to a grower's field is tricky: too little fertilizer means lost yields; too much fertilizer means wasted costs and potential runoff that causes air and water pollution. Meanwhile, farmers cannot control the weather, which can wreak havoc on the best-laid plans.
One important tool used to answer the question of the right rate, timing, placement and source of nutrient application to croplands (the "4Rs") is on-farm research trials. Farmers establish trials using their own fields and equipment, usually with guidance from a trusted advisor, university researcher or extension agent. Trials can inform many practices like nutrient management and seeding rate. Typically, they are conducted to determine practices' effects on yield, nutrient use efficiency, soil health and profitability.
Using the data generated from these field trials, experts are now updating the Tri-State Fertility Guide for Corn, Soybean, Wheat and Alfalfa. This 22-year old document still serves as the main guidance on fertilizer applications for the Buckeye state as well as Michigan and Indiana.
Here's how the update will benefit farmers. Read More »