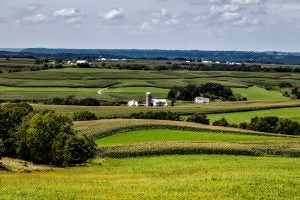 Like all Americans, I woke up on November 9 to a new reality: A few more Democrats in Congress, and yes, a President-elect who promised to dismantle our nation's core environmental protections.
Though the overwhelming majority of rural counties voted for Donald Trump, I do not believe they voted to increase air and water pollution or jeopardize wildlife.
We live in amazing times. Compared to 40 years ago, our environment is healthier, even as our economy has grown 300 percent.
But 40 years is a long time ago, and it's easy to forget that progress didn't happen overnight. It took Republican and Democratic administrations to put our bedrock environmental protections in place so the rules laid out in them could be enforced. These laws include:
A wildlife protection act that brought our national symbol, the bald eagle, back from the brink of extinction.
A clean air act that has helped to reduce smog and acid rain that was threatening our children's health and killing our forests.
A water quality act that has cleaned up our rivers so they may never catch fire again. (Yes, the Cuyahoga River in Cleveland was so polluted that it ignited in 1969.)