In 2017, my EDF colleagues and I partnered with Audubon International to team up with a seemingly unlikely ally in pollinator conservation — golf courses.
Together, we launched Monarchs in the Rough, a program that partners with golf courses to restore monarch butterfly and other pollinator habitat in out-of-play areas.
In two years, the program has surpassed our expectations, enrolling more than 700 golf properties that have committed to creating a total of 1,020 acres of new pollinator habitat. Golf courses are stepping up to help monarch butterflies and other pollinators in their fight to survive. Click To Tweet
Why golf courses?
Occupying approximately 2.5 million acres in the U.S. alone, golf courses have immense untapped potential for habitat restoration, if managed appropriately. That's where Monarchs in the Rough comes in, offering support to help golf course superintendents and personnel grow the right habitat in the right places.
Thanks to an initial grant from the National Fish and Wildlife Foundation and a matching grant from the United States Golf Association, Monarchs in the Rough provides regionally appropriate milkweed and wildflower mixes, along with technical assistance and scientific expertise to superintendents on how to create, protect and maintain milkweed and other native habitat.
Although the bees and butterflies are the primary beneficiaries of the new wildflowers, golfers are also enjoying the scenery. The flowers themselves enhance the backdrop of any course, with course managers reporting golfers leave happier for having spent time in a beautiful and biodiverse environment.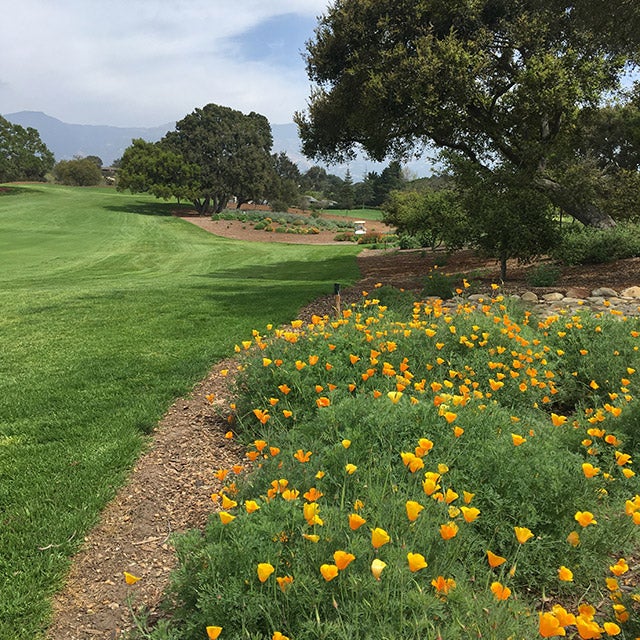 What's next?
While the benefits of the project are tangible for butterflies, biodiversity and golfers, the next efforts will focus on demonstrating pest management and potential economic advantages for golf courses that actively plant and preserve native habitat.
If a pending proposal is granted, we will be using Monarchs in the Rough plots as study sites to measure planting results, butterfly use and management practice adaptation in response to the need for lower inputs required for restored sites. The continuation of the project would be funded by USGA and would be expanded to involve partners and scientists from the University of Kentucky, North Carolina State University and the University of Florida.
Although monarch butterflies and other pollinators face various obstacles in their fight to survive, golf courses are stepping up to help. As the Monarchs in the Rough program continues to expand, the hope is that more butterflies — and courses — will reap multiple benefits from this new habitat.