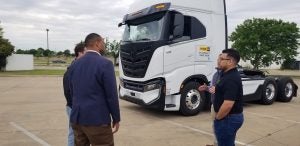 Last week, EDF and the North Central Texas Council of Governments hosted a daylong workshop on the state of zero-emission heavy-duty vehicles in Texas. Over 100 fleet owners, managers, industry experts and government officials came together to discuss the latest technology for hydrogen and electric trucks, the state of the Texas grid and go along for a ride-and-drive on some of the latest truck models on the road.
The transportation sector is the largest source of climate pollution in the U.S., and medium- and heavy-duty vehicles are responsible for more than half of the smog-forming pollution from the sector. Freight trucks and buses also consume more than 55 billion gallons of fuel annually at a significant cost for truckers and fleets.
EDF is committed to helping fleets of all sizes transition to cleaner ZEV truck models and in the process cut dangerous air pollution and protect the health of communities. That's where this workshop comes in.