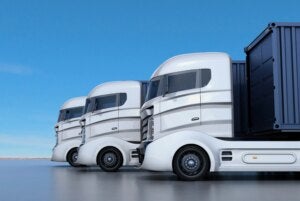 Something exciting is happening in the medium- and heavy-duty vehicle industry. The trucks, buses and port vehicles that drive our economy are quickly heading toward a zero-emission future.
Automakers and battery manufacturers are investing over $600 billion worldwide through 2030 to develop new electric cars, trucks and buses. This shift will benefit the communities and the environment by reducing toxic tailpipe pollution. But it will also fuel a new generation of American manufacturing and technology jobs and innovation opportunities.
Battery, motor and charging technologies are all improving, and costs are falling — trends that will continue as more trucks hit the road. Add to that momentum a slate of federal and state policies that are spurring market supply and demand and providing funding to ease the cost of this transition, and it's clear that the future of trucking is electric.