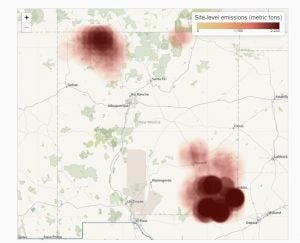 By Jon Goldstein and David Lyon
A new peer-reviewed study published today once again confirms the Permian Basin has some of the leakiest oil and gas wells in the country.
For the study, researchers with the University of Wyoming used a mobile methane laboratory to quantify emissions from 46 randomly selected well pads in New Mexico and 25 in Texas. They found those sites are emitting between 5 to 9 times more methane pollution than The Environmental Protection Agency estimates suggest.
This granular look at well pad emissions is a critical part of understanding what is causing the emissions. Earlier this year, EDF used this data to estimate total methane emissions across New Mexico and concluded the state was likely emitting up to one million metric tons of methane per year.
When combined with other measurement techniques, we can get an even clearer sense of the entire region's methane footprint. The satellite-based TROPOMI methane instrument, as well as aerial surveys conducted through our PermianMAP project — can detect emissions from other types of oil and gas equipment.