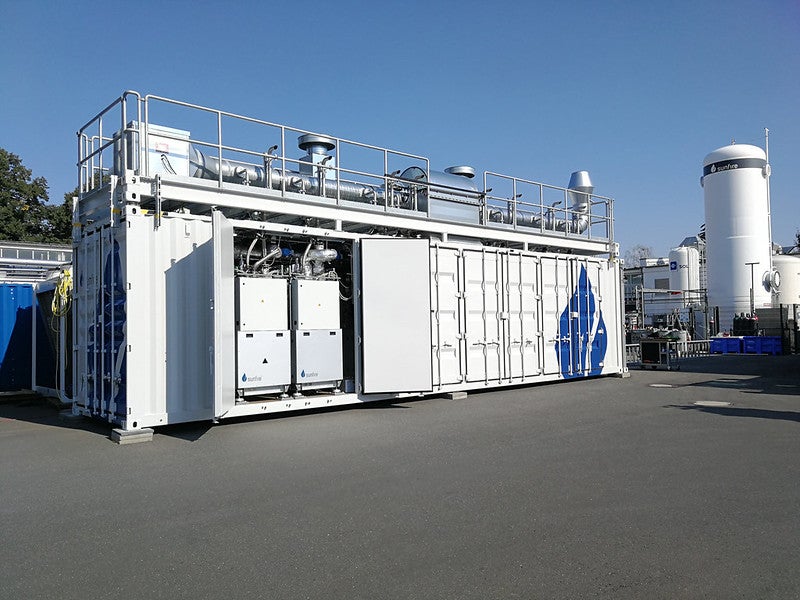 The Department of Energy has announced the list of selectees under its $7 billion Hydrogen Hubs program. If they successfully conclude final negotiations with DOE, projects will receive funding to create close-proximity networks of hydrogen producers, consumers, and connective infrastructure as part of the Biden administration's ambitious climate and clean energy effort.
While hubs offer localized opportunities for economic development and large-scale technology demonstrations, they can also have serious side effects. Our historical record of infrastructure development is marred with many examples where a lack of transparency, rigor, accountability and engagement led to projects that failed, or led to serious harm to local communities. This isn't only a matter of demonstrating a technology,  it's about demonstrating a technology in the context of our society and communities. 
Helping new hydrogen hubs sidestep risks, deliver on climate promise
Click To Tweet
Hydrogen is a critical path to fuels and feedstocks we need to decarbonize the energy system. It's essential that we get it right. For hydrogen to help the climate, it needs to be produced, managed and deployed carefully. The next steps in the hub development process are where that starts. 
 Getting it Right 
EDF's BetterHubs initiative provides a roadmap for developers, investors, governments and local communities to maximize benefits from these projects while minimizing negative impacts. BetterHubs provides ten core objectives for tackling some of the toughest issues around climate risks, air and water impacts, community engagement, transparency and more.  
How these metrics apply will differ from one project to the next based on specific characteristics. To illustrate how, we take three hub selectees — the Appalachian Regional Clean Hydrogen Hub, and California Hydrogen Hub and the Gulf Coast Hydrogen Hub — and explain how the objectives can apply to the Hub's context and region. 
This assessment is intended to demonstrate a sample of objectives with minimal duplication. We recommend developers and stakeholders apply all ten objectives to each project moving forward.  
Applying the BetterHubs objectives  to the Appalachian Regional Clean Hydrogen Hub, ARCH2 
ARCH2 covers the Appalachian counties across West Virginia, Ohio, Kentucky and Pennsylvania. The hub will center on fossil and biomass/waste-based hydrogen, relying on its vast industrial end-user demand and geology that lends itself to carbon sequestration. Potential end uses span across all sectors. 
BetterHubs core objective: Monitor and mitigate climate pollutant emissions   
Hydrogen produced from fossil fuels or biogenic pathways can involve significant upstream methane emissions — levels which are significantly downplayed by industry. For example, EDF researchers have found Pennsylvania's oil and gas methane emissions to be more than 15 times higher than what companies reported to regulators. ARCH2 development teams should ensure methane emissions are accurately accounted for and emission rates dramatically reduced (to no more than 0.2%).  At the same time, they should monitor and mitigate hydrogen emissions, which also contribute to short-term global warming.
BetterHubs core objective: demonstrate safe and effective carbon management  
The climate impact of hydrogen produced from natural gas also depends heavily on the rates of carbon capture and sequestration and the extent to which these processes are regulated. Reliance on this so-called blue hydrogen means developers must ensure that their equipment captures at least 95% of carbon dioxide emissions and that air quality risks are monitored and managed.  
Meanwhile, geologic storage projects should demonstrate an expected leakage rate of no more than 1% over 1,000 years, be limited to sedimentary formations, avoid groundwater contamination, leakage and earthquake risk.  
BetterHubs core objective: demonstrate added value and necessity as a clean energy solution 
ARCH2 has released little information regarding intended use cases (which is also a poor demonstration of the BetterHubs core objective on transparency and information sharing). Development teams should ensure offtake is focused on high-value end uses, such as industrial feedstocks and heavy-duty transport, rather than wasting hydrogen on applications such as light duty vehicles or household uses that can be more easily and efficiently electrified. Blending hydrogen into existing natural gas systems should be especially avoided, due to the risk of pipeline embrittlement and leakage, costs, energy efficiency losses and potential for continued air pollution. 
BetterHubs core objective: foster diverse local economic development opportunities 
Hubs should be designed to support local economies and equitably distribute work to support local communities, local and minority-led research institutions and local businesses. This is particularly important for the Appalachian region, which suffers disproportionately high rates of economic distress. The ARCH2 team should work closely with the Appalachian Regional Commission to align with its broader strategic development plan, while making concerted workforce development efforts and building local capacity at Historically Black Colleges and Universities. 
California Hydrogen Hub / Alliance for Renewable Clean Hydrogen Energy Systems  
The California Hydrogen Hub plans to produce hydrogen from renewable energy and biomass. It will focus on decarbonizing public transportation, heavy duty trucking and port operations, with the goal of driving air quality improvements and creating a West Coast freight network that links to the Pacific Northwest Hydrogen Hub.  
BetterHubs core objective: monitor and mitigate climate pollutant emissions 
California has substantial capacity for solar generation and potential for increased offshore wind. This bodes well for new electrolytic hydrogen made using renewable electricity and water , also known as green hydrogen,  which is the best way to minimize climate and health-harming emissions and reduce reliance on fossil fuels.  
But a high dependence on solar means that producers will need to pay attention to when and where that energy is produced. Projects using renewable energy to make hydrogen are counterproductive if they pull those clean resources away from existing users. And solar isn't available at night, so unless electrolyzers procure specific clean alternatives for these hours, operating at night could actually increase grid emissions.  
BetterHubs core objective: track, minimize and mitigate environmental impacts 
Parts of central and southern California are among the most water-stressed regions of the country. Given the substantial quantities of water required for hydrogen production, water resource demands must be taken into consideration. Moreover, California must ensure that any biomass used for hydrogen comes from waste biomass only. It should not induce clearing healthy forests, for instance, and it should not be allowed to offset dirtier hydrogen production elsewhere. 
BetterHubs core objective: deploy rigorous community engagement and partnership 
All hub developers should ensure that community members are active participants throughout the development and decision-making process, with feedback and concerns addressed in meaningful ways. This includes providing early and transparent project information, technical assistance and opportunities to engage on project design. They must also ensure that projects include community-identified benefits and protections for local health and safety. Developers will have an added responsibility to engage with local tribal nations, as well as a responsibility to address community opposition and mitigate any potential or unintended harms. 
Gulf Coast Hydrogen Hub / HyVelocity H2Hub 
The Gulf Coast Hydrogen Hub will be centered in the Houston region and stretch across the Texas coast into Louisiana. It will focus on both blue and green hydrogen production and will include salt cavern hydrogen storage, a large open access hydrogen pipeline and multiple refueling stations. End uses will include the numerous high-polluting refineries and ammonia facilities found in the region, along with trucking and marine fuel.   
BetterHubs core objective: track, minimize and mitigate environmental impacts  
Combustion of hydrogen in production or use generates NOx emissions, which have serious consequences for human health. This is particularly problematic for hydrogen facilities located in communities already overburdened with more than their fair share of pollution.  
Moreover, the use of blue hydrogen raises important environmental concerns around methane emissions and carbon capture and storage, including water and air pollution and the risk of seismicity. Such fossil-based build-out should be minimized, and to the extent to which development occurs, it will require new regulation (by EPA and state agencies) and improved enforcement. This includes better monitoring and regulation of local air quality; new pollution controls for carbon capture equipment; long-term liability for carbon storage; and protections for pipeline safety. 
BetterHubs core objective: safely transport and store materials and products 
Louisiana's salt domes are being heralded as a key solution to the hydrogen storage challenge. While salt cavern storage is indeed among the cheapest storage options, it will be important to understand and mitigate risks associated with both above-ground and below-ground hydrogen storage. Louisiana has an unfortunate history of improper salt dome management, and hydrogen storage may be even more challenging than natural gas or carbon dioxide given its small molecular size and low density.  
BetterHubs core objective: maximize transparency and foster information-sharing 
Without information about the hubs (including project plans, research findings, data and learnings), communities cannot engage in meaningful ways; stakeholders can't hold projects accountable; lessons can't be shared across projects; and the hydrogen industry won't earn the public trust it needs to support the clean energy transition.  
Many hubs, including the Gulf Coast H2 Hub, have provided very little public information thus far. These hubs should course-correct quickly — publishing key components of their project plans, convening public hearings, and embedding transparency across the life of the hub. 
High stakes 
The new hydrogen hubs are intended to provide a more centralized, thoughtful approach to clean energy development and create concrete benefits for communities across the country. But their success is not a given. Poorly designed hubs and those which exclude their nearby communities have the potential to amplify existing inequities, worsen cumulative pollution burdens and undercut our climate goals.  
To ensure the hubs are delivering on their promise and worthy of public investment, they should be held to standards like EDF's BetterHubs framework, and co-designed with impacted communities. While the regional context may vary, all hubs have the responsibility to ensure positive outcomes for environments and communities, while inviting strong stakeholder engagement that is responsive to local needs.