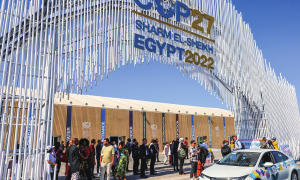 It's no surprise that COP 27 in Sharm El-Sheikh, Egypt closed with few groundbreaking headlines. Going in, we knew it would be  a "working COP" focused on steps to advance the commitments made at previous gatherings. And while some important steps were made on technical issues and a historic agreement on funding arrangements for loss and damage was sparked, there was real progress in the fight to reduce methane, the pollutant driving nearly a third of current warming.
Details, Details: Quiet Action at COP 27 Tees Up a Big Year for Methane Click To Tweet
Key Countries Advance Real Regulation
The biggest methane news at COP 27 came from the United States — number one in both global oil and gas production and methane pollution— which announced a substantial strengthening of long-awaited EPA rules that will dramatically cut emissions from tens of thousands of wells, pipelines and other facilities — including high-polluting, low production wells that had previously been left out. Additionally, the proposal introduces measures to reduce wasteful flaring.
Canada, the world's fifth largest producer, announced the main elements of an ambitious new set of oil and gas methane regulations that it will formally propose early next year. Canada's Minister of Environment and Climate Change also reaffirmed the country's commitment to cut overall methane emissions by at least 75 percent by 2030.
Mexico's state oil company PEMEX rounded out North American momentum with its announcement to develop and action a plan by first half of 2023 to cut methane pollution, with technical support from the U.S. Environmental Protection Agency.
Nigeria, another major producer, became the first African country to regulate methane emissions from its oil and gas sector. And China, affirmed that it has drafted a national methane emissions plan that focuses on data and measurement and information sharing on best practices and technology.
With the European Union set to enact oil and gas methane regulations in 2023, producers, investors and other stakeholders now know beyond a doubt that global action to reduce methane emissions is a permanent part of their competitive landscape. These measures will doubtless set others in motion.
Buyers and Sellers Get into the Act
 COP 27 ushered in two new initiatives that make it easier for buyers and sellers of internationally-traded natural gas to collaborate on minimizing methane across oil and gas supply chains.
President Biden announced a Joint Declaration from Energy Importers and Exporters including the United States, the European Union, Japan, Canada, Norway, Singapore, and the United Kingdom, designed to bring energy exporters and energy importers into alignment around reduced flaring and new measurement and reporting standards to make it easier to track and accurately document emissions associated with production and transport.
Following last year's Global Methane Pledge, the new pact seeks to create a market for low methane-intensity natural gas by channeling more and better emissions data into concrete policies, commercial agreements, and emission mitigation plans. By using resources already in place through the Oil & Gas Methane Partnership (OGMP), participants will achieve results quicker and with greater certainty.
In Malaysia, state-owned Petronas set strong methane reduction targets and signed up to OGMP, the only direct measurement-based reporting framework for methane emissions from the oil and gas sector. The company also entered into agreements with Japan to jointly pursue carbon neutrality strategies.
Climate security = energy security
 Even as markets in Europe and around the world continue to struggle with supply shocks caused by Russia's invasion of Ukraine, countries gathering at COP 27 increasingly embraced the core idea that energy security and climate security are two sides of the same coin — a common problem that can only really be addressed by accelerating the global transition away from fossil fuels.
Oil and gas companies worldwide waste at least 210 BCM of natural gas a year through leaks, flaring and other emissions. That's nearly 25% more gas than Europe was importing from Russia before the Ukraine war. At a time when Europe is worried about keeping homes warm and lights on, the quickest and cheapest option for filling the gap created by the loss of Russian gas is to simply stop wasting gas that's already being pulled out of the ground.
The good news is that much of this can be done without having to build expensive, long-lived infrastructure that would incentivize continued oil and gas dependence, something European policymakers have made clear they do not want.
Momentum to Address Agriculture is Building
 The Global Methane Hub announced it has raised $70 million for a new Enteric Methane Research and Development Accelerator to advance critical research on reducing the largest single source of methane emissions from agriculture. Their goal is $200 million by the first quarter of 2023.
The Green Climate Fund, in partnership with the International Fund for Agricultural Development (IFAD), the Food and Agriculture Organization, Global Dairy Platform, and Global Methane Hub, approved $3.5 million of project preparation funding with the objective of leveraging up to $400 million in financing to help transition dairy systems in key African and South American countries to lower emission, climate resilient pathways.
Food and agriculture companies are also looking at ways to support adoption of lower-methane production practices by farmers. In low-intensity production systems there is a growing awareness of how optimizing cattle production can lead to better rural nutrition, health and livelihoods, while also fighting climate pollution.
Accountability is Growing
 The UNEP International Methane Emissions Observatory , a core implementing partner of the Global Methane Pledge, launched the Methane Alert and Response System, MARS,  to scale up detection of major emission events, notify relevant stakeholders, and support and track mitigation progress.
Carbon Mapper will use airborne and space-based instruments to develop a global waste sector methane baseline assessment of over 10,000 landfills and dumpsites. RMI and Clean Air Task Force committed to developing an open-source Waste Methane Assessment Platform with waste sector information to drive methane action.
More Work to Do
 Make no mistake: we still have many miles to go to solve the methane challenge. None of these developments on their own get us where we need to be. But taken together, they set the stage for major new progress over the next 12-18 months — potentially the biggest, fastest steps we've set seen in our decade-long battle to address this powerful climate pollutant.