By Kelsey Robinson
New EDF-led research is bringing new hope to the prospect of preserving the Arctic's summer sea ice, which has been declining rapidly due to rising temperatures.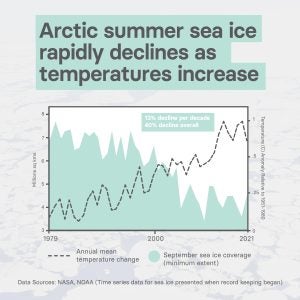 Sea ice levels today are at their lowest point since record-keeping first began and at this current loss rate, summer sea ice could practically vanish by the time today's toddlers become adults. This new research suggests that if we take swift action to reduce emissions of CO2 and the potent greenhouse gas methane – we could preserve summer sea ice well into the next century.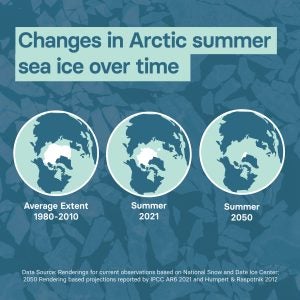 Methane is the second most important greenhouse gas after CO2 and is responsible for more than 25% of current global warming. Over the following two decades, the methane we emit today will capture over 80 times more heat than an equal amount of CO2. This is why cutting methane now is so important to slow down warming and lower the risk of losing Arctic summer sea ice.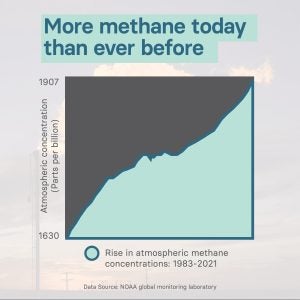 This study is one of the first to look at how practical methane mitigation affects critical parts of the climate system beyond temperature rise. According to the study, if we reach net zero CO2 emissions by 2050 (as motivated by the goals of the Paris Climate Agreement) and quickly enact methane reductions using all currently available solutions, the chances of saving our summer sea ice this century could increase from nearly zero without action to more than 80%.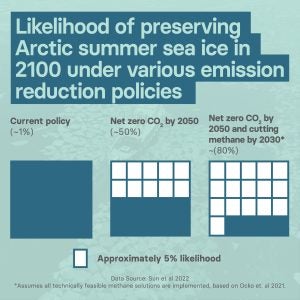 Why preserving summer sea ice is so important. 
A seasonally ice-free Arctic has significant implications for the global climate. According to recent research, if the Arctic Ocean is free of sea ice during the sunlit part of the year, it could  generate the same heat as 25 years' worth of human-caused CO2 emissions at today's level.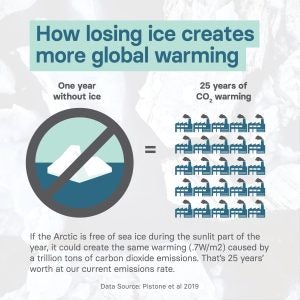 Preserving sea ice maintains habitat for walruses, polar bears and other Arctic wildlife and it serves as a vital source for hunting and fishing among Indigenous Arctic communities. It can also help deter geopolitical complications that can arise from open access to Arctic waterways.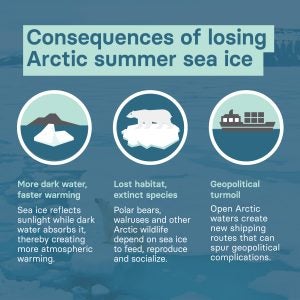 This study makes it clear that methane-cutting tools and technologies that are available today can make significant progress toward preserving Arctic summer sea ice and slowing the rate of global warming if we deploy them now.