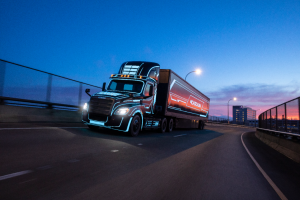 The U.S. Department of Energy joined by Vice President Harris yesterday announced a $127 million investment to drive the future of zero-emission trucks. The announcement demonstrates the growing role that electric trucks are playing today — both in the trucking industry and as a climate solution — and how the capacity of these vehicles can be further enhanced in the coming years, especially as Congress considers making bold investments in the weeks ahead.
While trucks only represent 4% of vehicles on the road, they are responsible for more than half of transportation smog pollution and are the fastest growing source of greenhouse gases in the U.S.
They are also projected to be the largest driver of the sector's oil demand growth.
Thankfully, America's fleets are embracing zero-emission trucks. Recent EDF analysis found over 100 fleets are currently operating or ordering zero-emission trucks, and this demand is driving massive investments by vehicle manufacturers.
But more work remains to develop zero-emission solutions for the most challenging truck uses, including long-haul trucking, which is responsible for the majority of fuel use and emissions from this sector. DOE's investments announced today will begin to get at this hard-to-decarbonize sector, while also providing funding for charging infrastructure.
What DOE's investment will fund
This new funding from DOE is part of the department's SuperTruck Initiative launched in 2009 to improve heavy-duty truck freight efficiency by 50%. There are a number of strategies for reducing emissions from long-haul, including increasing freight efficiency, shifting more freight to intermodal rail, and developing zero-emission trucks capable of the long-distances and brisk refueling times required of long-haul trucking.
U.S. in for the long-haul on zero-emission freight
Click To Tweet
This latest iteration of funding — called SuperTrucks 3 — will be focused on developing zero-emission solutions and doled out over five years to the following recipients, who will match federal funding dollar-for-dollar:
PACCAR development of eighteen Class-8 battery electric and fuel cell vehicles with advanced batteries and a megawatt charging station will also be developed and demonstrated.
Volvo Group development of a 400-mile-range Class-8 battery electric tractor-trailer with advanced aerodynamics, electric braking, EV optimized tires, automation and route planning; and a megawatt charging station will be developed and demonstrated.
Daimler Trucks North America development of two 2 Class-8 fuel cell trucks with 600-mile range, 25,000-hour durability, equivalent payload capacity and range to diesel.
While each of these manufacturers already have zero-emission freight trucks on the road today, this next generation of investment from DOE further drives the development of this technology.
SuperTruck 3 will also help fund the development of megawatt charging stations. Such high charging speeds are well above what is available today. Having stations capable of delivering this level of charge and batteries capable of receiving it go a long way toward demonstrating the ability of battery electric technology to meet the needs of on-road freight transport.
In addition to the investments in the tractor-trailers — which has been the exclusive focus of the DOE SuperTruck program in its first two iterations — the agency also announced two investments into smaller freight trucks. These are:
Ford Motor Company develops five hydrogen fuel cell electric Class-6 Super Duty trucks targeting cost, payload, towing and refueling times that are equivalent to conventional gasoline trucks.
General Motors develops four hydrogen fuel cell and four battery electric Class 4-6 trucks.
There are a number of zero-emission class 4-6 electric trucks on the market today that are capable of meeting fleet needs. But this DOE investment, along with manufacturer direct investments — such as Ford's recent $11 billion announced venture — will ensure this market continues to see progress, too.
The road ahead
Together, these investments in high-powered charging, long-haul trucks and medium-duty vehicles can help guarantee the U.S. has the technical capacity needed to ensure all new heavy trucks sold in the U.S. are zero-emission by at least 2040.
This leadership needs to be paired with direct incentives — including the extension of tax credits that support the build-out of critical charging infrastructure and purchase of zero-emission trucks in the Build Back Better Act. We also need continued support at the state level to develop robust charging infrastructure and ensure that zero-emission vehicles are deployed first and foremost to reduce diesel pollution in our most burdened communities.
Finally, the Biden administration has an immediate opportunity to drive the development and adoption of zero-emission trucks through the EPA: Issue new emission standards for trucks that reflect the availability of zero-emission technology and its ability to cost-effectively reduce emissions in the years ahead. Long-term standards are critical to drive the production scale needed to widely deploy these vehicles.