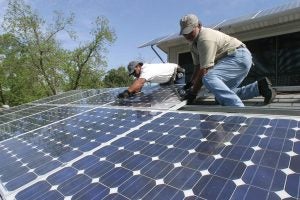 Immediately after the Future Energy Jobs Act was passed in 2016, EDF and our tremendous partners in the Illinois Clean Jobs Coalition started work again. Building on that momentum and with many new and diverse partners, the Coalition held over 100 listening sessions with communities about their top priorities for Illinois. During those listening sessions, in every corner of the state, shared priorities emerged and became the pillars of the Climate and Equitable Jobs Act.
The core tenants of CEJA were built from the bottom-up, and after years of hard work, deep listening and authentic collaboration, the Climate and Equitable Jobs Act, SB2408, was signed into law by Governor J.B. Pritzker yesterday.
A Path to Equitable Decarbonization
The health and wealth of every community — especially those who have been left behind in the past — is supported by CEJA. The legislation phases out carbon-emitting power generation by 2045 while more than doubling investments in renewable energy. Illinois is now on track for 40% renewable energy by 2030 and 50% by 2040 compared to less than 10% today.
CEJA expands the Illinois Solar for All program from $10 million per year to $50 million, bringing the benefits of solar to every community. The state will also put the equivalent of 1 million electric vehicles on the road, an important step toward statewide decarbonization.
Illinois lays out blueprint for next generation climate legislation
Click To Tweet
Equally importantly, the bill prioritizes fastest closures for fossil units in environmental justice communities that have been disproportionately and inequitably impacted by fossil fuel generation in the state. The workers and communities impacted by those closures will be aided through targeted programs bringing jobs, training, and economic development to areas where they are needed most. They will also be protected by a Displaced Energy Workers Bill of Rights.
Workforce hubs throughout the state will provide worker and contractor development programs and a new Green Bank will provide seed funding for disadvantaged businesses, promoting diversity in clean energy businesses and the energy sector workforce. The sum of the many programs is the most comprehensive just transition in the nation. Moreover, as utilities invest in infrastructure to accelerate clean energy adoption, a portion of those investments must be targeted for communities where environmental hazards and socioeconomic disadvantages are highest.
Utility Accountability
CEJA also transforms how utilities do business in the state. It unwinds the "formula rates" electric utilities have used for the last 10 years to guarantee profits and increase spending. Instead, it requires them to engage in transparent and holistic system planning. Their profits will now be dependent upon their performance on goals set forth in CEJA to promote clean energy, make the grid more reliable and make customer bills more affordable.
The bill provides unprecedented inclusivity for proceedings where these decisions will be made. Members of the public and community representatives can appear without an attorney at workshops where utility plans are designed, and organizations who can show financial need can be compensated for participating in legal cases.
New public and private ethics and compliance monitors will enforce new requirements to ensure ethical conduct by utilities, removing the undue influence they have exerted over decisionmakers for far too long.
A Just Process
CEJA is remarkable not just because of the policies it includes, but because of the way in which it was created and passed. The Illinois Clean Jobs Coalition modeled a new, inclusive process that embedded equity from the start.
The diverse members each contributed their own lived experiences and expertise, lifting up voices that have been left behind in the past. A clean energy leader, Illinois is an example to other Midwest states and states across the country that equitable climate legislation is achievable everywhere.
Every day, the impacts of climate change worsen, and that is especially true for Black and Latino communities. Those communities must be at the table from the start as we continue to transform the energy industry.