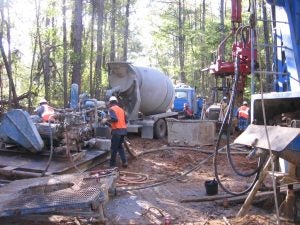 After over 150 years of boom and bust oil and gas development, there are over a million inactive, unplugged oil and gas wells across the country. A new study published in the journal Elementa describes how, when not properly plugged, these wells can contaminate groundwater and emit methane as well as harmful chemicals into the atmosphere that endanger the economy and public health in communities where they are found. It also provides suggestions for how to maximize the environmental benefits of efforts to plug these wells.
There are 57,000 documented "orphan" wells across the country, meaning they have no owner of record, at least not one that's still in business, and hundreds of thousands more orphan wells that are not documented. State, federal and tribal governments are left with the responsibility of plugging these wells – some of which have been abandoned for decades.
Plugging old oil and gas wells can be an expensive endeavor. The most complex and damaged wells may cost hundreds of thousands of dollars to properly plug. The total public liability from all these wells is likely in the tens of billions of dollars, perhaps approaching $100 billion.
Most oil and gas states have orphan well plugging programs, but they are often insufficient to deal with the magnitude of the problem. For example, Pennsylvania is ground zero with over 8,500 documented orphan wells and likely hundreds of thousands others drilled before good records were kept. It could take hundreds of years to fix the problem at current rates of progress.
Low prices and the COVID recession exacerbate this problem, as well as potential solutions
Stakeholders have increasingly focused on the orphan well problem in the past several years as a low-price environment tends to increase the rate of orphaning due to bankruptcies and other factors. When the pandemic hit at the same time as a global oil price war, it led to tens of thousands of oil and gas job losses, and many observers saw a historic opportunity to use federal stimulus funding to create jobs plugging these wells.
Maximizing the historic job creation opportunity waiting in our nation's old and leaking oil and gas wells
Click To Tweet
Inspired in part by a Canadian orphan well stimulus effort, political leaders began planning a stimulus effort in the United States. Today, there are several pieces of legislation and other proposals to address orphan wells:
An $8 billion bill in the House, launched by Representative Theresa Leger-Fernández of New Mexico.
A $4.7 billion bipartisan bill in the Senate by Senators Ben Ray Luján, also from New Mexico, and Kevin Cramer from North Dakota.
A $16 billion funding package in the Biden-Harris administration's American Jobs Plan.
The prospect of plugging these orphan wells, the tens of thousands of jobs it would create or retain, and the climate and local environmental benefits that would ensue, has never looked so bright.
But if the U.S. is to embark on such a large oil and gas infrastructure clean-up effort, it is key that we get the details right and maximize our return on investment.
First, states and the Bureau of Land Management should ensure their plugging regulations are modernized and designed to prevent both groundwater contamination and leakage of greenhouse gases and other emissions to the atmosphere. Since well plugs are supposed to last in perpetuity, it is imperative to do a good job at the outset.
Second, conducting research on orphan well leakage and groundwater contamination, both generally understudied phenomena, can help guide plugging priorities and techniques in the years ahead.
Legislation currently pending in Congress provides funding to pursue these ideas in service of making proper use of taxpayer dollars in this major cleanup effort. Getting smarter on both the societal cost of orphan wells and as well as mitigation measures can ensure that federal plugging and remediation funds are effective in reducing groundwater, air and climate pollution to benefit public health as well as local economies.