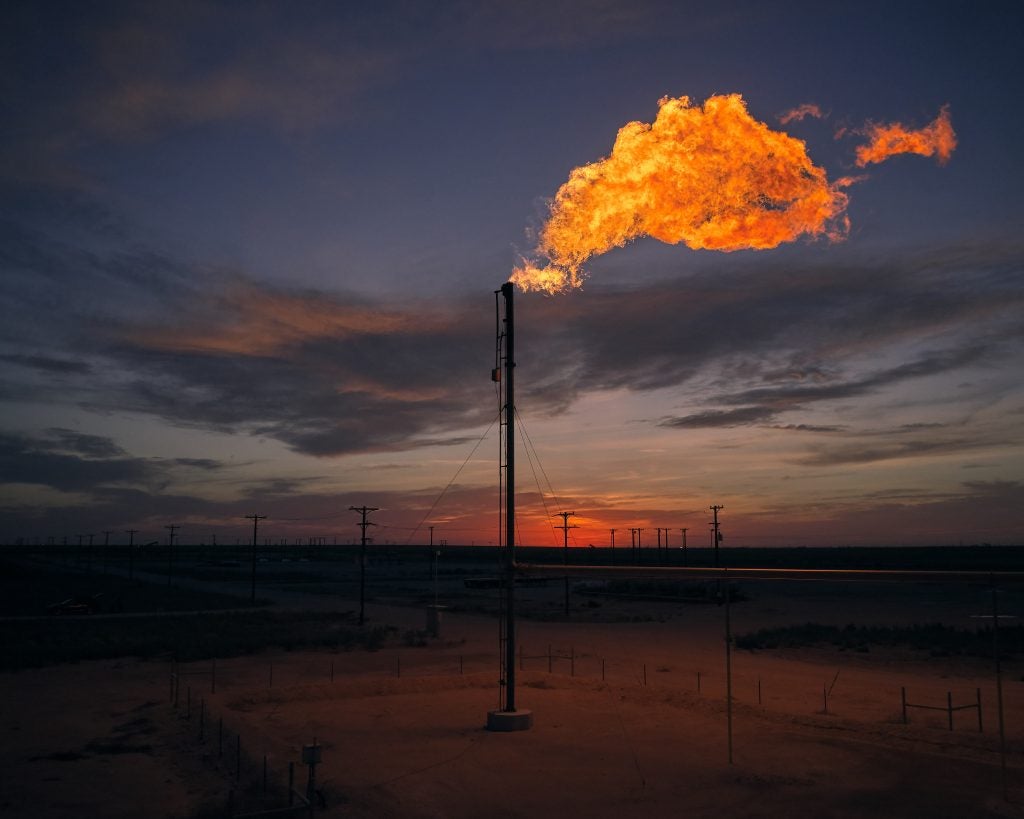 A new analysis commissioned by EDF from Rystad Energy makes clear that flaring from Texas' Permian oil and gas operations is persistent and is likely to increase in coming years as production rebounds from 2020, but that industry can eliminate most routine flaring at zero cost with simple rules and operator changes.
Following are key takeaways, but you can download Rystad's entire report here.
All flaring can be reduced cost-effectively, but routine flaring is the low-hanging fruit.
Eliminating routine flaring in the Texas Permian is cost-effective. For example, if Texas were to adopt a 98% gas capture policy, Rystad found that about 84% of routine flaring volumes and 40% of total flared volumes in the basin could be mitigated without cost. Not only is routine flaring the cheapest type of flaring for operators to eliminate, it would create significant value for the resource as a whole. For example, Rystad found that operators would realize an additional $400 million of wellhead value by 2025 if they were required to capture 98% of the gas they produce.
Gas capture requirements are a familiar policy tool for reducing flaring. North Dakota implemented them in 2014, and New Mexico has included a gradual 98% gas capture requirement into its recent flaring and venting reduction proposal. These rules can offer operators a degree of flexibility while establishing enforceable, concrete targets. And Rystad found that a 98% gas capture rule in Texas would nearly eliminate routine flaring. Of course, gas capture rules must be enforced to be effective, and they aren't the only policy solution needed. Rystad found a significant amount of flaring in other parts of the supply chain — away from the well. Routine flaring may be the low-hanging fruit, but once it's resolved, Texas will have to address midstream-driven event flaring, as well.
Very low rates of flaring are achievable.
Rystad identified a group of oil and gas leases that achieved a very low flaring intensity — 0.4% — demonstrating that it is possible and profitable to curb flaring. For context, if all wells performed at 0.4% flaring intensity, operators would eliminate 90% of all flaring in the basin. The truth is that the majority of routine flaring comes from a relatively small number of leases, and the top performers that have achieved 0.4% flaring intensities are doing so at a competitive disadvantage to laggards that flare at much higher rates. Requiring all companies to hit lower flaring intensities would not only address the problem more effectively, it would level the playing field.
New report: Routine flaring in Texas' Permian can be eliminated at little to no cost
Click To Tweet
Flaring will likely rise post-2020, and Texas' recent Railroad Commission policy is a missed opportunity.
A trillion cubic feet of natural gas in the Texas Permian has been flared (wasted) since 2013. And though flaring subsided somewhat during the pandemic — back to 2018 levels from the astronomically high levels seen in 2019 — Rystad's report shows it will quite likely return to pre-pandemic levels by 2025 as drilling and production resumes.
Rystad also compared the impact of a gas capture policy to that of some recent administrative changes the Texas Railroad Commission has made to data collection and flaring applications (the RRC policy was a proposal at the time of the analysis, but has since been adopted.) Though Rystad found the RRC policy could reduce some types of flaring, its analysis of the RRC policy is also based on good faith assumptions that operators would respond to the RRC's "soft" approach. Even so, Rystad estimated the RRC policy would reduce flaring half as much as a gas capture requirement.
The report also shows that flaring intensity and volumes are highest in the first few months of a well's production, peaking in the second month and decreasing dramatically after three months of operation. But RRC's new policy reduces some initial flaring permits from 180 days to 90 days — it makes no changes to how much a company can flare in the first three months. The only sure-fire way to ensure lasting and significant flaring reductions is to require all producers to have a capture plan before a well comes into production and that all gas be captured from day one.
The report follows a newsworthy 2020 for the Permian Basin. In September, the chairman of BP and the president of Shell sent a letter to Texas' Railroad Commissioners urging them to support the goal of eliminating routine flaring in the state. A group that manages more than $2 trillion in investments echoed the call, saying it is clear "that voluntary actions (by companies) alone have been insufficient to eliminate routine flaring industry-wide." And in an industry report on flaring, two JP Morgan Asset Management analysts called for regulations to end routine flaring, saying that voluntary efforts "have proven insufficient to deliver on the industry's full potential." Government and policymakers, they said, are well positioned to get the job done.
Perhaps more newsworthy were reports from Europe that Engie, a potential customer of a planned liquefied natural gas plant in South Texas, delayed and then canceled a $7 billion deal because Texas gas might be "too dirty." This report demonstrates that flaring is not just a stain that can be removed from Texas' energy industry, but one that can be removed simply, quickly and affordably.
How will industry respond to flaring and other challenges facing Permian gas? Can it continue to compete in a global economy that insists on low emissions if the Texas Railroad Commission remains unwilling to lead and support needed improvements? Moving quickly to end routine flaring in Texas is a good way to prove it can.