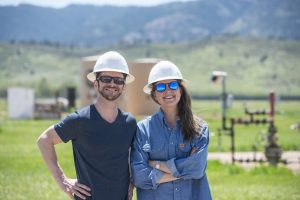 The simple answer is this. Environmental Defense Fund (EDF) approaches challenges pragmatically. If we want to rid the planet of harmful climate pollution, our efforts must include working with the industries that can make the biggest difference.
That means I spend a lot of my time working with leaders from the oil and gas industry. While we don't always agree, we forge solutions wherever we can.
I've been a passionate environmentalist all my life. I vividly remember sitting in the back of my parent's station wagon speeding up I-95, becoming upset at pollution bellowing out of truck tailpipes. Right then I decided I wanted to do something about it. But after being trained as an environmental lawyer, I realized that if it's solutions you seek, the boardroom can be as important as the courtroom. So I sharpened my business skills at one of the world's top consulting firms, McKinsey & Co. and then found EDF – an organization that uses science, economics, and law to craft environmental solutions that work with business and the larger economy to achieve lasting change.
Over the last five years, EDF has consistently innovated to help oil and gas companies reduce their environmental footprint, including reducing methane emissions. Today, we're on the cusp of a new wave of environmental innovation that will revolutionize the ways we work together with this industry to find environmental solutions.
EDF is playing a prominent role at the World Gas Conference because we've got scientific, economic and policy insights that can help industry to reduce harmful emissions. It's time for us to supercharge these collaborations.
Solving the methane problem, from molecule to satellite
As it often does, our work on methane started with science – right down to the molecule.
We zeroed in on methane because it's a greenhouse gas that is 84 times more potent than carbon dioxide for the first 20 years it's in the atmosphere. In fact, methane from human activities is responsible for 25% of the warming that we're feeling today.
The global oil and gas industry is responsible for nearly a third of these emissions, and the International Energy Agency says emissions can be reduced 75% cost effectively with technology solutions available now.
While the importance of reducing oil and gas methane is clear, there remains a lot of uncertainty as to how much was escaping and from what sources. To properly measure methane emissions, we had to engage both academic research universities and industry in the biggest science project in our history. The result was sixteen studies across the oil and gas supply chain involving 140 researchers from 40 different institutions – giving us a foundation in facts to work with industry to address the problem.
What the data revealed was an environmental and economic opportunity.
We found that from the well pad to the burner tip, methane was not only leaking harmful pollutants into the atmosphere, it was causing oil and gas producers to lose sellable product.
Surfacing the biggest challenges, bringing the right people to the table, and taking solutions to scale
Through more analysis, we learned that many of the leaks could be fixed easily and cost effectively. But finding them was still difficult and expensive. Until we made methane visible, we couldn't make it manageable.
To us, this seemed like a solvable problem. EDF already identified a growing group of businesses using infrared cameras for leak detection. But that was no substitute for 24/7 monitoring. So we launched a challenge to bring the right people to the table to help. The Methane Detectors Challenge called for tech innovators, academics and entrepreneurs to come up with continuous methane detection devices (basically like smoke detectors) that make it faster, and easier to find and fix leaks.
We culled dozens of submissions, ending up with two new technologies for continuous methane detection. Now it was time to take these solutions to scale. Through partnerships with industry leaders like Shell, Statoil, and PG&E, EDF was able to pilot these sensors in the field. Now, industry projects are cropping up from Texas to Alberta, and additional technology companies are entering the market as continuous methane monitoring becomes part of the new business as usual on natural gas sites.
Fixed methane sensors are great, but they don't work for every application, because rapid scans of vast areas are needed too.
So we mounted another challenge. We teamed up with Stanford, Schlumberger and ExxonMobil to launch a new Mobile Monitoring Challenge. The result? We have begun testing 12 new sensor technologies on trucks, drones and planes.
Pretty intriguing right? But we're not done.
Monitoring Methane from Space
EDF is planning to develop and launch a new satellite to locate and measure methane emissions from human-made sources worldwide, starting with the oil and gas industry.
We're working with a successful satellite entrepreneur and the former CEO of Skybox Imaging, Tom Ingersoll, to get this project off the ground, and we partnered with Harvard and the Smithsonian as well. Our goal is to launch by 2021.
Free and open data from this satellite is intended to give both countries and companies the information needed to spot problem areas, identify opportunities for reductions, and measure progress in reducing methane emissions over time. Companies that get a head start in reducing emissions now will thank themselves later.
EDF at the World Gas Conference
EDF wants to help. The need for reducing greenhouse gas pollution is urgent and significant reductions in oil and gas methane emissions can make a meaningful difference in slowing the rate of warming in our lifetime. We're putting a stake in the ground at the World Gas Conference and we're ready to explore new collaborations. We will unveil a new virtual reality tool, the Methane CH4llenge – an immersive storytelling project that takes users on a journey into the oil and gas field to see how industry can help solve an important climate and energy challenge.
We'll explore how industry leaders are setting methane reduction targets, expanding their global action plans on methane, unlocking new technology breakthroughs, and winning the trust of investors through enhanced disclosure.
And we'll engage throughout with companies to support EDF's mission of preserving the natural systems on which life depends.
I look forward to seeing you in D.C. at the World Gas Conference, and I invite you to stop by and say hello, or drop me a line at any time.
Ben
bratner@edf.org
[Tweet "What the heck is an environmental group doing at the World Gas Conference?"]