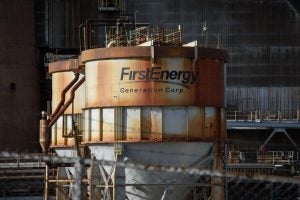 President Trump may soon grossly distort competitive markets for electricity. Last week, he announced his consideration of a request for "202(c)," by which he means an $8 billion proposal to bail out all merchant coal and nuclear plants in a region that spans across 13 Midwestern and Mid-Atlantic states.
The request comes from FirstEnergy, the Ohio-based utility giant that has sought billions of bailout dollars over the last decade to cover its bad business decisions. Although repeatedly rebuked by federal and state regulators, the company recently asked the U.S. Department of Energy (DOE) to bail out coal and nuclear units in the PJM-grid operator region by invoking section 202(c) of the Federal Power Act. Using this power would require the Department to find that additional compensation to these plants is necessary due to an "emergency" on the grid. The audacious proposal would bail out not only FirstEnergy's facilities, but more than 80 coal and nuclear units throughout PJM, the largest grid-operator region in the U.S.
The plea aims to increase electricity bills by a staggering $8 billion annually. It also would insulate old, dirty power plants from competition – protecting them from markets where more affordable resources like solar, wind and natural gas are helping to drive down electricity bills for Americans.
Independent generators and owners of wind farms and natural gas power plants recognize that massive preferences given to coal and nuclear will stifle innovation and modern technologies. According to NRG's general counsel, the FirstEnergy proposal is "corporate welfare, and it is not something we should tolerate because all it does is make consumers pay more for power plants that should go through belt-tightening or leave the market."
Manufacturers, farmers, and other consumers of electricity also oppose the plan, objecting to the higher costs for power that would result from the proposed bailout.
[Tweet "Trump may greenlight an $8 billion attack on competitive energy markets"]
Even PJM calculated that FirstEnergy's clunkers can close and the lights will stay on. In fact, the regional grid operator responded to FirstEnergy's request with an unequivocal message: "This is not an issue of reliability. There is no immediate emergency."
FirstEnergy's proposal is very similar to one unanimously rejected recently by the Federal Energy Regulatory Commission. A DOE assistant secretary also said the agency "would never use" its emergency authority to keep uneconomic plants operating.
Yet such substantial opposition, evidence, and logic do not guarantee the expensive proposal's demise. FirstEnergy launched its plea with a lobbying frenzy, including two of its high-powered representatives recently dining with President Trump.
America's competitive energy markets are ushering in a new era of cleaner, cheaper, and more efficient electricity. But FirstEnergy's dangerous proposal seeks to undermine competition by guaranteeing profits for uneconomic power plants and thwarting innovation and progress. Proponents of open markets need to make their voices heard, and soon.
This post originally appeared on Forbes.