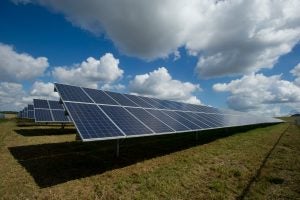 North Carolina's in the middle of a clean energy boom, but the looming threat of an international trade war may leave the state's incredible success story a few chapters short.
Over the last few months, two floundering solar manufacturers petitioned the U.S International Trade Commission (ITC) to take action against foreign competitors. These companies want the United States to levy tariffs on imported solar products because they can't match the cheaper prices. Recently, the ITC agreed with the companies' complaint and recommended to President Trump a 30 percent tariff.
President Trump will decide this month what to do – he can follow the ITC recommendation, but, by law, doesn't have to. He should reject the tariffs, so North Carolina's clean energy economy can continue to thrive.
Clean energy success
Today, there are more than 34,000 clean energy jobs in North Carolina (a 30 percent increase since 2015), more than 5,600 MW of cumulative renewable energy capacity, and nearly 1000 clean energy firms that contribute more than $6 billion in annual revenue to the state's economy. North Carolina also is now second in the nation for total installed solar energy capacity.
[Tweet "President Trump should reject the solar tariffs, so North Carolina's clean energy economy can continue to thrive."]
Beyond these impressive job and revenue numbers, clean energy investments are putting downward pressure on electricity rates, saving North Carolina electricity customers money. A 2015 analysis of the drivers behind retail electricity rates in North Carolina concludes that, as the costs of conventional power generation (like coal and nuclear) continue to rise, investments in clean energy are helping to keep overall electricity rates lower. The report estimates that investments in clean energy have already saved North Carolinians more than $160 million on their electricity bills since 2007, and could produce more than $500 million in additional savings by 2029.
The clean energy future in North Carolina looks bright indeed, but a tariff would risk the important financial benefits that clean energy is delivering to electricity customers in North Carolina.
Economic benefits
North Carolina's business and political leaders know that clean energy is an economic issue. It brings investment and jobs, and future-proofs our economy from fluctuating energy prices and the increasing costs associated with fossil fuel-based generation.
As a result, elected officials on both sides of the aisle in North Carolina have rallied around clean energy. The passage of the Competitive Energy Solutions for NC Act this past summer is the most recent example. The new legislation expands market opportunities for renewable energy developers and provides electricity customers with more clean energy access and choice. The measure also increases competition in the marketplace, helping to ensure that North Carolinians can get all the benefits of solar energy and other renewables at bargain prices.
Other voices
Some in North Carolina's congressional delegation have been strong and vocal in their opposition to potential tariffs. Sen. Thom Tillis led a bipartisan group of senators that urged the ITC to oppose tariffs. Sen. Richard Burr urged the ITC to consider the consequences tariffs would have on North Carolina's economy. Reps. Ted Budd, Virginia Foxx, George Holding, Richard Hudson, Patrick McHenry, Robert Pittenger, David Price, David Rouzer, and Mark Walker have all joined with other members of congress opposing tariffs.
In a letter to the ITC, Duke Energy – North Carolina's largest electricity provider and one of the largest electric utilities in the U.S. – urged the commission to consider the harmful consequences of actions that would artificially increase the costs of solar energy, like imposing tariffs. Duke Energy urged the ITC to avoid actions that would "disrupt the growing and developing clean energy marketplace", adding that "[s]uch a disruption potentially harms our customers, our company, our employees and the larger power sector as a whole." The company also noted that "the delivery of reliable, affordable, and increasingly clean energy relies upon international trade policies that increase supply chain stability, not policies that destabilize it."
Looming threat
By artificially increasing costs and disrupting supply chains, the ITC's proposed 30-percent tariff threatens to destabilize North Carolina's new competitive renewable energy markets just as they are getting started. Higher costs imposed by a punitive tariff would leave families and businesses with fewer choices and higher bills.
Unfortunately, the ITC has declined to heed the advice of our elected representatives in Congress, instead recommending this crippling 30-percent solar tariff. We need strong leadership more than ever, and we hope that our senators and representatives from The Tar Heel State and elsewhere will redouble their effort and direct their focus on the president.
If we want North Carolinians to continue reaping the numerous benefits associated with a competitive and growing clean energy industry, we'll need steadfast engagement to prevent the ITC's tariff proposal from undermining our state's favorable business environment.
Photo source: Unsplash/AmericanPublicPowerAssociation