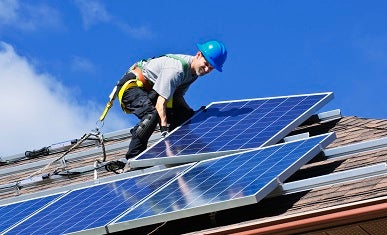 If you work in the solar industry, want to buy solar panels or care about climate change, you may want to pay attention.
Two floundering solar manufacturers, with no concerns but their corporate bottom line, are about to pull the rug from under one of America's fastest-growing industries and tens of thousands of well-paid jobs.
The manufacturers petitioned the U.S International Trade Commission this spring to take action against foreign competitors, claiming overseas rivals export products to America's solar market at prices they can't match. This at a time when the United States solar industry as a whole is booming.
In a decision that shook the industry and a host of free-trade advocates, ITC agreed with these single two petitioners and it's now up to President Trump to decide whether to retaliate with an import tariff or other punitive options.
There's a good chance he will – and this would be really bad news for American solar companies and consumers alike.
What a solar trade war would mean for you
If you're thinking about installing solar panels or work in the solar installation industry, you'll be hit the hardest.
The general consensus is that up to 100,000 American solar jobs are at risk, because placing a tariff or artificial floor price on solar products would make them more expensive for customers.
Prices could double and residential demand could dry up, almost overnight.
[Tweet "This trade dispute could upend America's booming solar industry. Here's what it means for you."]
Large commercial solar projects would also become less cost-competitive and demand would decline long-term. Solar installation companies – which had the fastest job growth of any industry over the last few years – would be forced to slash jobs.
And the pain would spread beyond solar customers and workers. It would ultimately affect us all.
Solar industry loss a setback for planet
The planet could suffer, because every kilowatt of zero-carbon solar energy that isn't installed is a kilowatt that will likely be replaced by electricity generated by dirty, fossil fuel. Even though many utilities give customers carbon-free options today, net greenhouse gas emissions would certainly rise.
Indeed, tariffs or other options that Trump may now be mulling could kill nearly two-thirds of potential solar installations in the next five years, according to a recent analysis by Greentech Media. That represents 47 gigawatts of lost solar potential, more than all the solar ever installed in the U.S.
But really, would he want to be responsible for trading 100,000 jobs for a campaign pledge?
Those 47 gigawatts also represent carbon dioxide emissions that could be avoided, possible as much as 110 million metric tons, depending on what replaces the solar demand.
What will happen next?
A remarkable coalition of groups that includes solar and environmental organizations, as well as conservative, free-market groups; are now urging the president to avoid a damaging trade war over solar technology imports. A bipartisan group of 16 senators, led by North Carolina Republican Thom Tillis and New Mexico Democrat Martin Heinrich, has also weighed in.
The president of the Solar Energy Industry Association put it this way: "This is a case about two companies bringing about a petition, with almost the entire rest of the solar industry in entire disagreement."
Trump, however, campaigned on "fixing" U.S. trade and he may now view solar tariffs as a safe way to keep that promise. As recently as last month, he told his chief of staff, "I want tariffs. And I want someone to bring me tariffs."
But really, would he want to be responsible for trading 100,000 jobs for a campaign pledge? Or for giving consumers fewer options because of two companies that couldn't compete? We hope not.
This post originally appeared on our Voices blog.