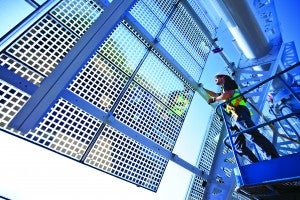 By Jonathan Camuzeaux, manager, Economics & Policy Analysis
Risky Business Report Finds Transitioning to a Clean Energy Economy is both Technologically and Economically Feasible
In the first Risky Business report, a bi-partisan group of experts focused on the economic impacts of climate change at the country, state and regional levels and made the case that in spite of all that we do understand about the science and dangers of climate change, the uncertainty of what we don't know could present an even more devastating future for the planet and our economy.
The latest report from the Risky Business Project, co-chaired by Michael R. Bloomberg, Henry M. Paulson, Jr., and Thomas F. Steyer, examines how best to tackle the risks posed by climate change and transition to a clean energy economy by 2050, without relying on unprecedented spending or unimagined technology. The report focuses on one pathway that will allow us to reduce carbon emissions by 80 percent by 2050 through the following three shifts:
1. Electrify the economy, replacing the dependence on fossil fuels in the heating and cooling of buildings, vehicles and other sectors. Under the report's scenario, this would require the share of electricity as a portion of total energy use to more than double, from 23 to 51 percent.
2. Use a mix of low- to zero-carbon fuels to generate electricity. Declining costs for renewable technologies contribute in making this both technologically and economically feasible.
3. Become more energy efficient by lowering the intensity of energy used per unit of GDP by about two thirds.
New Investments Will Yield Cost Savings
Of course, there would be costs associated with achieving the dramatic emissions reductions, but the authors argue that these costs are warranted. The report concludes that substantial upfront capital investments would be offset by lower long-term fuel spending. And even though costs would grow from $220 billion per year in 2020 to $360 billion per year in 2050, they are still likely far less than the costs of unmitigated climate change or the projected spending on fossil fuels. They're also comparable in scale to recent investments that transformed the American economy. Take the computer and software industry, which saw investments more than double from $33 billion in 1980 to $73 billion in 1985. And those outlays continued to grow exponentially—annual investments topped $400 billion in 2015. All told, the United States has invested $6 trillion in computers and software over the last 20 years.
[Tweet "The US Could Lead the Next Tech Revolution by Investing in Clean Energy"]
This shift would also likely boost manufacturing and construction in the United States, and stimulate innovation and new markets. Finally, fewer dollars would go overseas to foreign oil producers, and instead stay in the U.S. economy.
The Impact on American Jobs
The authors also foresee an impact to the U.S. job market. On the plus side, they predict as many as 800,000 new construction, operation and maintenance jobs by 2050 would be required to help retrofit homes with more efficient heating and cooling systems as well as the construction, operation and maintenance of power plants. However, job losses in the coal mining and oil and gas sectors, mainly concentrated in the Southern and Mountain states, could offset these employment gains. As we continue to grow a cleaner-energy economy, it will be essential to help workers transition from high-carbon to clean jobs and provide them with the training and education to do so.
A Call for Political and Private Sector Leadership
Such a radical shift won't be easy, and both business and policy makers will need to lead the transition to ensure its success. First and foremost, the report asserts that the U.S. government will need to create the right incentives.  This will be especially important if fossil fuel prices drop, which could result in increased consumption.  Lawmakers would also need to wean industry and individuals off of subsidies that make high-carbon and high-risk activities cheap and easy while removing regulatory and financial barriers to clean-energy projects. They will also need to help those Americans negatively impacted by the transition as well as those who are most vulnerable and less resilient to physical and economic climate impacts.
First and foremost, the report asserts that the U.S. government will need to create the right incentives. 
Businesses also need to step up to the plate by auditing their supply chains for high-carbon activities, build internal capacity to address the impacts of climate change on their businesses and put internal prices on carbon to help reduce risks.
To be sure, this kind of transformation and innovation isn't easy, but the United States has sparked technological revolutions before that have helped transform our economy—from automobiles to air travel to computer software, and doing so has required collaboration between industry and policymakers.
We are at a critical point in time—we can either accelerate our current path and invest in a clean energy future or succumb to rhetoric that forces us backwards. If we choose to electrify our economy, reduce our reliance on dirty fuels and become more energy efficient, we will not only be at the forefront of the next technological revolution, but we'll also help lead the world in ensuring a better future for our planet.
This post originally appeared on our Market Forces blog.