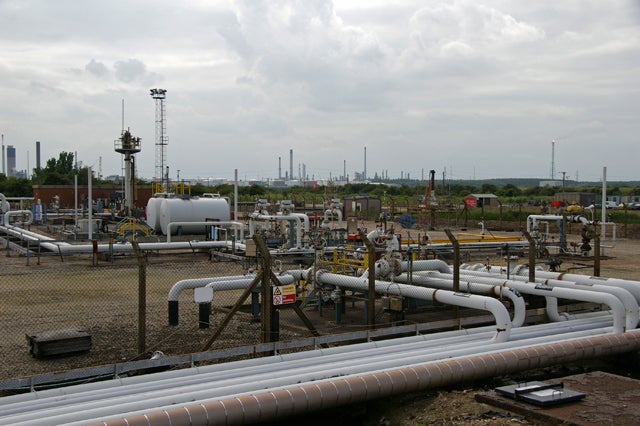 With 2016 on pace to be the hottest year ever recorded, it's never been more urgent for countries to work together to protect our climate. Europe, with its long history of climate leadership, has a pivotal role to play in driving the next wave of efforts.
European leadership was central to achieving the historic Paris Climate Agreement, as well as recent breakthrough agreements on carbon dioxide emissions from aviation and hydrofluorocarbons (HFCs) in refrigerators and air conditioners.
But there is one critical climate opportunity still to be taken on in Europe, and that's methane – one of the biggest levers we have today to slow the rate of warming.
The other important greenhouse gas
Methane is a powerful greenhouse pollutant, over 80 times more powerful than carbon dioxide during the first 20 years it hangs around in the atmosphere. In fact, scientists say methane accounts for around 25% of the warming experienced today.
Accumulation of CO2 in the atmosphere determines the amount of warming our planet will experience; reducing it now lowers the chance of long-term catastrophic climate change. Cutting methane affects the rate of warming, decreasing the probability of intense heat waves and slowing rapid sea level rise. That's why an effective climate strategy requires action to reduce both carbon dioxide and methane.
Shrinking the methane footprint
Natural gas is mostly methane, and globally the oil and gas sector is one of its largest contributors. Curbing methane across this industry is also the single biggest, most affordable opportunity to eliminate a sizable chunk of these emissions.
Across the supply chain, tens of millions of tons escape each year. In 2012, the industry leaked as much methane as was produced by Norway, the world's seventh largest producer. Losses would be higher if they included wasted gas now burned off in flares rather than put to productive use.
A recent study concluded that methane from fossil fuel development is up to 60% greater than previously estimated. This mirrors new measurements in the United States that strongly indicate the same. Without action, experts say, emissions will climb by more than 20% worldwide by 2030.
Natural gas is widely marketed today as a low-carbon fuel, emitting roughly half the carbon dioxide of coal when burned. But that ignores the methane problem. Consequently, whether gas can truly be seen as a greener substitute for coal and oil  remains in question until the methane that is emitted is fully measured, regularly monitored and significantly reduced.
If the world were to cut oil and gas methane emissions by 45% by 2025, as the United States, Canada and Mexico recently agreed to do, it would have the same climate benefit over 20 years as closing one-third of the world's coal plants.
Untapped opportunity for Europe
The International Energy Agency says oil and gas methane emissions are among five key pillars to reduce global greenhouse emissions. Fortunately, there are cost-effective strategies to reduce these emissions, creating important opportunities for countries and companies trying to meet their greenhouse-gas goals.
Curbing oil and gas methane requires little in the way of new capital or fundamental changes in business practice. Often, it's as easy as tightening valves and repairing leaks. In places like the state of Colorado, where industry reductions are required, companies are finding that the benefits outweigh costs of regularly checking for leaks.
Europe is a central player in the global oil and gas industry. Four of the world's top 15 gas-producing corporations are headquartered in Europe, with the continent producing 8% of the world's natural gas. Presently, Europe is the largest gas importer, globally, and the IEA predicts the continent's gas to rise over the next decade. For its emissions, official inventories rank total EU oil-and-gas methane higher than those reported for Iran or Saudi Arabia.
Taking the next steps
In May, the five Nordic states committed to developing a global target to reduce oil and gas methane. It's a step, but we need greater European ambition to seize the full climate benefit offered by reducing methane emissions.
European companies have begun engaging more in the methane challenge. BP, Engie, ENI, Repsol, Statoil and Total have all expressed concern about methane. They've started surveying parts of their operations for emissions and disclosing that information. But so far only a few European companies have an action plan to reduce their global methane emissions, and none have specific reduction targets. All of them should be doing both.
Likewise, European nations inside and outside of the European Union should revise and implement national standards for oil and gas methane and incorporate measures into commitments for achieving the greenhouse reductions agreed to in Paris. And while Europe's data suggest that its oil and gas methane emissions have declined, studies have shown such estimates to routinely undercount emissions. Europe could also be instrumental in developing a worldwide oil and gas methane goal, building on the Nordic commitment and cultivating support in other parts of the world, similarly to how it led the international community in setting limits on global aircraft and refrigerant industry emissions.
In a world where we are looking for every available tool to reduce greenhouse gas pollution and stay below dangerous climate thresholds, we can't afford missed opportunities. Europe can affect real change in the oil and gas industry and reduce methane emissions, showing once again that it can propel a global community forward on climate solutions.
This post originally appeared on The Economist Intelligence Unit Perspectives blog.
Image source: David Wright, Geograph