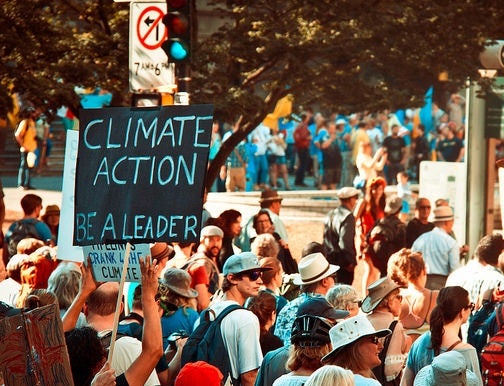 Last month, the Environmental Protection Agency (EPA) proposed the first-ever nationwide standards to reduce methane pollution from the oil and gas industry. It's a common sense move: With its potent global warming power and low-cost solutions, cutting methane is the biggest bargain for greenhouse gas reductions in the energy business.
The array of supporters speaking out in favor of the proposal underscores just how smart, practical and doable EPA's move is. Applause has come from voices as diverse as citizens impacted by oil and gas development and investors to government leaders in the heart of oil and gas country.
Here's just a sample of the voices we've heard over the past two weeks:
Communities in the Crosshairs
Methane is a potent climate forcer, but it also carries with it serious health impacts because it's emitted alongside toxic and smog-forming pollutants.
Low income and communities of color often are closest to industrial sources of air pollution, putting them at disproportionate risk. As Adrianna Quintero, executive director of Voces Verdes, writes, "Reduction of emissions from new oil and gas operations is an important and crucial next step that will benefit all families impacted by climate change as well as the health of those in communities with heavy oil and gas development… Latinos have long shown strong support for government action on air pollution…"
The American Lung Association applauded "EPA for proposing strong limits on volatile organic compounds and industrial methane from new oil and gas sources as an important step toward protecting the public's health… Emissions of industrial methane and toxic gases pose a recognized occupational hazard for workers and a risk for nearby communities."
Many communities experience the problem daily, and welcomed EPA's action. Theodora Bird Bear, resident of Fort Berthold Indian Reservation in North Dakota, and Chair of the Western Organization of Resource Councils Oil and Gas Campaign Team recollected that "…recently, while driving home across western North Dakota, the need for strong rules became very clear as I counted 80 active gas flares in a 40-mile stretch of my drive. This rule is not only a major step towards helping to improve the health of my neighbors on the Fort Berthold Reservation, but this rule is also a major step towards helping improve the air quality for all Americans living near oil and gas wells."
Oil and gas country
Oil and gas producing states like Colorado have already seen the value of curbing pollution from the oil and gas industry, enacting their own rules and leading by example. When EPA issued their proposed national methane pollution standard Colorado Senator Michael Bennet said that he was "pleased that today's proposal …is focused on the same proven and cost effective strategies that Colorado adopted in its groundbreaking rules in 2014. We're glad that the EPA is following Colorado's lead and starting this process at the national level."
And in Texas, where the oil and gas industry is key to the economy, top papers across the state editorialized in favor of the rules, pointing out their cost-effectiveness and dismissing industry claims about excessive cost. The Houston Chronicle wrote that "smart environmental policy in a few key companies can't solve an industry-wide challenge, and a patchwork of state regulations can't fix a national problem…. The … regulations should add a little more than a penny to the cost of natural gas – about one-third of one percent of today's prices. That's an easy price to pay for cleaner air."
Business and labor
Independent analysts from Barclay's, a bank with over a trillion dollars in assets, concluded that "these new standards are manageable from a cost perspective and unlikely to materially affect natural gas production levels in the U.S."
They say this because companies, such as those in the fluid sealing industry are already offering "technology [that] can be part of the solution." According to the Fluid Sealing Association, "the rules recognize that there are proven, cost-effective solutions that are ready to be deployed."
The proposed rules also can boost job creation. As D. Michael Langford, president of the Utility Workers Union of America said, "the simple act of keeping natural gas in the system provides a significant opportunity to put American workers squarely at the forefront of developing, manufacturing, and implementing technologies needed to accomplish this, creating high-quality jobs and stimulating local economies."
Industries outside of the oil and gas sector also support the standards simply because they engage in "responsible practices, [and] expect the oil and gas industry to do the same," as Christine Hughes, small business owner and member of the Ohio Sustainable Business Council said.
The diversity of voices that spoke out in support of EPA's action reinforces that the rules being proposed are doable and cost-effective, and provide much needed clean air and climate benefits to all communities. Join those who have already spoken out and tell EPA you support strong standards to reduce oil and gas methane pollution today.