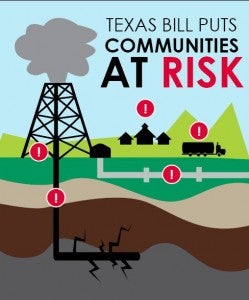 The Texas Senate is poised to vote on House Bill 40, new legislation that threatens to gut municipal rules and oversight of oil and gas drilling. The bill, an over-the-top reaction to the Denton fracking ban, stacks the deck in favor of industry and if passed, will undo almost 100 years of local home-rule authority.
That's a big problem for Texas cities, especially since there seems to be broad misconception about what HB 40 does and doesn't do. Despite what supporters are saying, this is not a "narrowly tailored" bill, but instead, a complete restructuring of Texas government that will drastically impact a city's ability to protect the health, public safety and property of Texans who live in areas with heavy drilling activity.
Here are the facts:
This isn't a "Denton" problem, it's a Texas problem.
This bill is not just about preventing Denton from enforcing the ban on hydraulic fracturing that voters approved in November.  Ordinances in more than 300 Texas cities—ordinances that for years have allowed orderly mineral development to take place, while protecting people and property from the worst aspects of drilling—are threatened if the bill passes as written.
Texas courts have consistently recognized municipal authority to regulate oil and gas; HB 40 will tear down a long-standing tradition of shared authority between the state and cities. Rather than provide clarity on what municipalities can regulate, HB 40 adds more confusion and will tie up cities in endless litigation with operators.
Long-standing city ordinances, including setbacks and traffic regulation, could be lost.
Before going to the House floor, a portion of the bill was re-written to include a 5-year "prima facie" clause, a legal term which gives the impression that cities will retain the right to keep ordinances more than 5 years old. At best, this is only partially true.
For a city rule or ordinance to be enforceable under HB 40 it must pass a four-part test.
Ordinances can only apply to surface drilling activity. All subsurface ordinances (and cities have many of these) are completely preempted.
The proposed ordinance must be considered "commercially reasonable."
It must not "effectively prevent an oil and gas operation" from occurring.
It must not be pre-empted by another state or federal law.
The "prima facie" clause – which some are calling a "grandfather" protection – only applies to the "commercially reasonable" test, and only provides city ordinances with a presumption of satisfying that one test. It does not apply to the other three tests, and it does not automatically mean such ordinances are enforceable. Industry lawyers can still challenge ordinances based on changing market conditions or costs of compliance.  And this so-called "safe harbor" doesn't protect ordinances from the rest of the mandatory tests, whatsoever.
In many instances, state protections won't pick up where local protections stop.
Advocates of HB 40 claim that while the bill threatens and in many cases completely preempts municipal rules, the Railroad Commission and other state agencies are there to pick up the slack. Not so.
Once challenged in court, cities could lose their traditional authority to do things like limit truck traffic in residential areas, determine the distance wells must be from schools, homes or hospitals, and set curfews for noise and light pollution from drilling activities. There are no state rules that address these local impacts. And Railroad Commissioner Chairman Christi Craddick testified before Congress today that the Railroad Commission does not regulate noise or traffic.
This bill would completely remove more critical safety measures covered by local "subsurface" rules. For example, many coastal cities require operators to install and annually inspect subsurface emergency shut-off valves that stop gas flow in the event of an emergency, like a hurricane, for certain onshore wells. The state has no such similar requirement for any onshore well.
Bottom line: these are protections best handled at the local level. The state does not enact or oversee these safeguards, nor does it have the resources to do so.
Compromise? What compromise!?
Perhaps the largest misconception about HB 40 is  that the bill's sponsors reached a "compromise" with Texas cities about their concerns. It is true that after the bill's sponsor accepted some of the changes proposed by the Texas Municipal League, the organization agreed to go "neutral" on the bill.
But the Texas Municipal League doesn't speak for everyone. Many Texas cities remain firmly against it.
Fort Worth Mayor Betsy Price said "we still have some concerns"
Dallas Mayor Mike Rawlings said the bill "doesn't take into consideration individual city needs"
The Mansfield Public Safety Director said "it ain't pretty"
Westlake Town Manager Tom Brymer said when it comes to public health and safety, the bill is "problematic"
Lubbock city councilman Victor Hernandez said it would "erode" the city's traditional authority
The Arlington Fire Chief testified the bill would "put the lives of residents at risk."
And many other cities are beginning to make their objections known.
Despite these serious issues with the current legislation, the Texas Senate will soon debate whether to advance the bill. Before senators vote, they should listen to the cities in their districts rather than to lobby groups in Austin to determine whether HB 40 really is good for citizens.