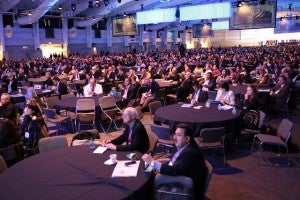 Each month, the Energy Exchange rounds up a list of top clean energy conferences around the country. Our list includes conferences at which experts from the EDF Clean Energy Program will be speaking, plus additional events that we think our readers may benefit from marking on their calendars.
Top clean energy conferences featuring EDF experts in March:
Mar 6-8: Global Clinton Initiative University Meeting (Miami, FL)
Speaker: Miriam Horn, Special Projects
President Clinton and Chelsea Clinton will host the eighth annual Global Clinton Initiative University (CGI U) Meeting at the University of Miami. The meeting will bring together more than 1,000 innovative student leaders to make Commitments to Action in CGI U's five focus areas: education, environment and climate change, peace and human rights, poverty alleviation, and public health. Through the CGI University Network, The Resolution Project, and other opportunities, over $900,000 in funding opportunities will be available to select CGI U 2015 students to help them turn their ideas into action.
Mar 24-26: EnergySMART 2015 (Philadelphia, PA)
Speaker: Liz Delaney, Program Director, EDF Climate Corps
EnergySMART is a chance to step back from the daily operational rush and plug into the latest wisdom on energy intelligence. Three days of keynotes from the best in the business, focused sessions tailored to you – whether you're a CFO, a VP of Operations, a sustainability manager, or a facility manager – and unparalleled networking with everyone in the industry. Walk away with cutting-edge knowledge of how energy intelligence is reshaping energy management, and best practices you can immediately implement to maximize operational efficiency, improve productivity, and drive financial benefits for your organization.
Mar 24-26: San Juan Basin Energy Conference (Farmington, NM)
Speaker: Jon Goldstein, Senior Policy Manager
Industry leaders from across the nation are expected to share their insights, visions, and goals for the future of energy at the 2015 San Juan Basin Energy Conference. What is the five year price environment of oil and its impact on the San Juan Basin? Saudi Arabia has surprised the global oil market with a "market share" strategy and challenged $100 oil expectations. Adjustments are under review by some operators. Supply and demand is a conference focus. Will the San Juan Basin, the Bakken, Permian, and Eagle Ford repeat the natural gas oversupply history of the last five years?
Mar 25-26: Energy Thought Summit (Austin, TX)
Speakers: Marita Mirzatuny, Project Manager, Clean Energy; Cheryl Roberto, Associate Vice President, Clean Energy
Energy Thought Summit (ETS) stands for more than thought leadership through energy — it's about combining industry expertise, radical ideas, and the insatiably creative from all walks of the energy ecosystem and exploring how we connect. Born in Austin, Texas, ETS events bring the world's thought leaders together in cities around the globe to debate the state and future of energy — expect smart dialogue and an engaging setting on and off-line.
Other top clean energy conferences across the U.S. in March:
Mar 13-15: 2015 Vail Global Energy Forum (Vail, CO)
Stanford University, Precourt Institute for Energy, and the Vail Valley Foundation will partner again to host a fourth public forum. The Vail Global Energy Forum will bring together government leaders, as well as thought leaders from business and academia, to discuss the rise of North America as a global energy powerhouse and the future of clean power and transportation.
Mar 16-18: Cleantech Forum San Francisco (San Francisco, CA)
This annual gathering of the global cleantech innovation community offers a comprehensive, multi-day development program along with exclusive opportunities to network, socialize, and get deals done. The program is designed to share stories, spark conversation, and hear dynamic pitches under the guiding theme: Cleantech Meets the Cloud: The Emergence of Cleantech-as-a-Service. We have observed a significant shift in energy and resource markets from centralized to distributed systems. In this increasingly decentralized world, customers would like more data and control to make better decisions. We are still a long way from achieving an ideal world where all players are able to produce and share energy and water similar to the way we create and share information online.
Mar 23: 14th Annual Wall Street Green Summit (New York City, NY)
The Wall Street Green Summit is the longest running and most comprehensive sustainable finance event in the industry. Launched in 2002 by Peter Fusaro, the Wall Street Green Summit covers cutting edge content, industry developments, and features the leaders of tomorrow. The emergence of the "Impact Economy" is where main street investors team up with corporations, entrepreneurs, and government to solve environmental and social problems while generating financial returns. The 2015 Wall Street Green Summit XIV is the "one-stop shop" to come up to speed on the latest developments in green finance.
Mar 25-27: Wall Street Journal ECO:nomics (Santa Barbara, CA)
The editors of The Wall Street Journal will bring together global CEOs, top entrepreneurs, environmental experts, policy makers, and leading thinkers at ECO:nomics 2015 to identify and assess the most compelling opportunities — and pressing risks— emerging around the world in businesses impacted by the environment. Through on-stage interviews with leading figures and interactive sessions with peers in diverse industries, participants at ECO:nomics 2015 will debate, discuss, and get the inside story on essential issues: investing in innovation, disrupting current business models, the new meaning of sustainability and the future of the environmental movement, where energy policy is heading, and much, much more.
Photo source: Flickr/National Retail Federation