A rising chorus of companies in the oil & gas services sector are adding their voices to the majority of Americans who think it's a smart idea to limit vast waste of methane taking place every day in the nation's the oil and gas operations. These companies in the methane mitigation industry are experts in finding and fixing methane waste. They issued statements welcoming the EPA's announcement of planned rules aimed at reducing methane emissions from th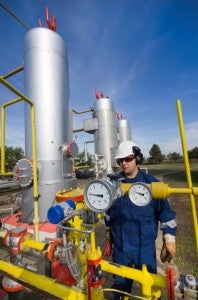 e oil and gas value chain.
As the ones who are working overtime to provide technologies and services to minimize release of methane and other pollutants throughout the natural gas value chain, these companies see limiting methane emissions as smart business for the oil and gas industry.
Consider their remarks:
"Rebellion Photonics welcomes today's announcement from the EPA regarding its methane plan. It is a positive step towards ensuring we minimize emissions of methane, a short-term climate forcer, from the US oil and gas value chain. America's shale revolution holds vast potential to both power our economy and drive environmental gains. Limiting the amount of methane that leaks from natural gas equipment ensures that we will maximize the environmental benefits of America's plentiful natural gas resources," said Rebellion Photonics, a manufacturer of specialized cameras that detect methane leaks.
"The FSA and its members are committed to doing its part to address climate change. The FSA is well equipped to work with our partners in the oil and gas sector, the EPA and the Obama Administration in finding solutions and being a technical resource to curtail methane emissions," said the Fluid Sealing Association, which represents major US manufacturers of sealing technology that helps limit emissions of methane.
"Apogee Scientific, Inc. looks forward to working closely with the EPA and the Oil and Gas sector to reduce the environmental and health impacts of oil and natural gas development in the United States. As a company based in Colorado, a state with the country's strongest methane rules, we have seen first-hand how good, comprehensive policy can drive environmental, economic, and local community benefits. The EPA should look at Colorado as the model of how good methane policy can benefit all stakeholders involved," said Apogee Scientific, a Colorado-based maker of leak detection equipment.
These statements express the clear private-sector support for smart, common sense limits on methane emissions that will level the playing field for operators nationwide and drive down emissions.
Curbing leaks and minimizing vented methane keeps gas in the pipeline for their clients, improves air quality for communities and reduces how much of this supercharged climate pollutant is released into the atmosphere.
Less waste at a low cost
These companies manufacture the kinds of proven, cost-effective technologies highlighted in a 2014 report by consultancy ICF International that can significantly and cost-effectively reduce emissions. ICF found that by using the products and services provided by these American companies, the oil and gas sector can reduce emissions by 40% for, on average, less than a penny per thousand cubic feet (mcf) of natural gas produced.
Furthermore, those investments would save the oil and gas industry over $1 billion a year in wasted product, enough gas to heat nearly 6 million homes a year.
Jobs: U.S. manufacturing industry tackling methane emissions
There are over 75 American companies with over 500 company locations spread throughout 46 states involved in the methane mitigation business.  More widespread adoption of methane mitigation technologies and services driven by the EPA's proposed rule will give a boost to the U.S. manufacturing sector and create jobs, particularly for small businesses, which make up almost 60% of the methane mitigation industry. It will give a boost to local economies, many of which are in areas most in need of cutting emissions, such as Texas, Oklahoma and Colorado.
The companies within this industry make the products we need to fix this problem, and are continuously investing in new technologies to better find and fix sources of emissions. They are solutions-oriented and stand ready to help the oil and gas industry to solve this problem.
Photo Source: Thinkstock
This post originally appeared on our EDF + Business blog.