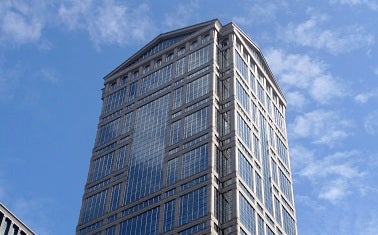 For 10 weeks this summer, EDF Climate Corps fellow Karan Gupta worked for JLL, a commercial real estate firm, to optimize energy use at one of the company's largest buildings: 77 West Wacker Dr., a 1-million-square-foot commercial office building in downtown Chicago.
At the core of Karan's work was demand response – an energy savings tool that pays people to shift their electricity use to times of day when there is less demand on the power grid, or when more renewable energy is abundant.
I spoke with Myrna Coronado-Brookover, JLL's senior vice president and general manager, to find out why her company placed a bet on this technology.
Why are energy savings important to your company?
We evaluate building operations from a cost perspective. This involves juggling tenant comfort, tenant value, and building value. In the case of 77 West Wacker, the energy expense for the building was second largest next to the real estate tax expenses.
We knew there wasn't much we could do from an operational standpoint to change the real estate, but we could address how we operate the building by looking at every department and identifying ways to reduce energy.
What have the results been so far?
A great example of how we were able to realize cost savings through this program was during the polar vortex. We were actually one of just a few real estate firms that monitored energy rates in January 2014. We were able to sell our conserved energy back to the grid for three consecutive days, and as a result, we made between $13,000 and $15,000 every day. That was a big, big return that we never expected.
So far this year, we've been able to make between $75,000 and $80,000 through demand response. That offsets the actual energy expense of the building, which reduces the operating costs and adds value to the building owner.
How do these energy management solutions give JLL a competitive edge?
It's simple: We offer more for less. Naturally someone's going to say, 'I want to be at a building that is conscientious about expenses because I'm paying for them.' So there's a value in that.
These solutions also change the economy of our buildings. Owners are able to demand higher rental rates and still stay competitive in the market because of lower operating expenses, thereby increasing the value of their asset.[Tweet "Smart energy management saved this Chicago real estate firm nearly $15k/day during the polar vortex http://ow.ly/D77M4 "]
What is the biggest challenge with implementing a change like this?
Well, it's selling it to your engineering team. It's selling them technology that will make them better at what they do every day. And that's exactly the key to what made 77 West Wacker so successful. I was able to massage this and sell it to my own team, which took it and achieved enormous results.
Once the engineers make it their own project, you just sit and back and watch these talented individuals implement. These are the same people who walk into the building every day and turn on that light, turn on those chillers – these are the people who need to be empowered to make these kinds of decisions.
How can solutions such as demand response be scaled up in Chicago and beyond?
Obviously, our partnership with EDF Climate Corps has raised our profile, allowing us to raise awareness within the community, and that's been the vehicle for us. Submitting our building for recognition is also a way to raise awareness of what we're doing. But mostly it's educating ourselves, demonstrating our success to peers within the market, and learning from each other.
There are other buildings in Chicago doing great things. So it's us learning from them, and them learning from us. It's just a partnership overall. (See press release.)
(Note from the editor: A recent decision by the U.S. Court of Appeals, D.C. Circuit has dealt a blow to demand response, which could limit the participation of companies like JLL in the wholesale energy market. It could threaten the type of energy savings we explore in this blog post. EDF is working to halt these developments.) 
Photo source: Flickr/Bo Nash
This post originally appeared on our EDF Voices blog.