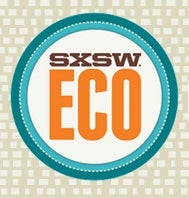 SXSW Eco attracts a global community to explore, engage, and co-create solutions for a sustainable world. A uniquely inclusive platform for professionals, SXSW Eco examines the critical challenges of our times through a kaleidoscopic lens of design innovation, policy tipping points, technological breakthroughs, conservation practice, entrepreneurial spirit, and a culture of creativity to transform inspiration into action.
EDF will be there in full force, including participating in four panels (CST):
Monday Oct. 6th

11:45 – 12:45: Natural Gas: What's (Not) in the Pipeline
Mark Brownstein, Associate Vice President & Chief Counsel, US Climate and Energy Program
Methane leaks throughout the entire natural gas supply chain can undermine the climate benefits of its increased usage. This is because methane, the main component in natural gas, is a potent greenhouse gas when it escapes into the air during the production, delivery and use of natural gas. Local distribution is one segment of the system where leaks can occur. Panelists will discuss capacity to detect and react to elusive methane leaks in natural gas local distribution systems. Regulatory and industry experts, as well as voices from the science and tech communities, will explain how modern leak detection technologies can help utilities find and prioritize pipeline repair for leaks that present an environmental concern and explain how addressing these leaks will affect industry, policy and the environment. This panel demonstrates how entities with varying interests can align to help solve a pressing climate concern.
Tuesday Oct. 7th
4:45 – 5:45: How to Tackle the Renewable Energy Water Nexus
Kate Zerrenner, Project Manager
Two thirds of the planet is now defined as "water scarce" and as climate change causes more frequent droughts, our ability to grow economically is continually stressed. Through renewable desalination and innovative conservation techniques we can end water scarcity, future proof our water infrastructure, and reaffirm access to clean water as a basic human right. Ultimately, we will have to explore additional ways to secure freshwater to sustain life and encourage growth. Using fossil fuels to desalinate or transport water will only intensify the problem, but using renewable energy would be a sustainable, cost effective solution. As drought conditions increase, it is essential that water generation doesn't become a part of the problem and that conservation is a community initiative. In this panel you will learn how we can harness the renewable energy water nexus together.
Wednesday Oct. 8th
10:30 – 11:30: Utility 2.0: Innovate or Die
Rory Christian, Director, New York Clean Energy
Do you remember what it was like before cell phones, computers, or iPods? It's hard to imagine a world before the shift that occurred in telecommunications, publishing, and music, when technology eroded their long-standing business models. This same paradigm shift- prompted by technological innovations, changing consumer preferences, and the need to curb climate change- is exactly what our electricity system faces today and it will change our lives forever. This panel discussion will focus on how to prepare for a future in which electric vehicles, rooftop solar, and home energy management systems are commonplace.
11:45 – 12:45: Can Disruptive Technologies Solve Climate Change?
Diane Munns, Senior Director, Clean Energy Collaboration
The current model for generating and distributing electricity via large, centralized power stations owned by utilities has served the US quite well, producing affordable, reliable electricity. This played an enormous part in the economic success of the 20th century. But as we move into the 21st century, many centralized systems–telecommunications, network television, computing, and even transportation–are being disrupted by new, decentralized technologies. With the rise of solar distributed generation, energy storage, efficiency, clean web, and fuel cells, are new technologies on the brink of transforming the utility sector? Could these technologies carve a bigger place for nuclear energy as a climate solution? And what are the ramifications of these emerging technologies for consumers, cost, and reliability, as well as their real ability to give us the dramatic carbon reductions we need?
And you can catch all of the action on the live stream below: