Guest Blog Post By: Jackie Roberts, EDF's Director of Sustainable Technologies, National Climate Campaign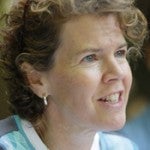 The exciting innovations in the area of an energy internet – also known as the "smart grid" – illustrate just one of the ground-breaking ways that the U.S. can reduce our energy consumption and carbon emissions while also creating new business opportunities that help expand jobs.
Big Market, Big Return
Using data from a Pacific Northwest National Lab study that quantified several categories of smart grid benefits, Duke University estimates that a built-out smart grid could reduce an estimated 18% of emissions from the U.S. electric sector.   Looking across the full spectrum of possible benefits, EDF sees even greater potential.  By mobilizing system-wide efficiencies and large-scale deployment of renewable and distributed resources, a well-designed smart grid could reduce electric sector carbon emissions 30% by 2030.
This new market is predicted to be just as large as the aforementioned emission estimates.  According to one market research firm, the global market value of products to enable the smart grid has grown from an estimated $26 billion in 2005 to more than $69 billion in 2009, a compounded annual growth rate of 22%. Total market value is expected to exceed $186 billion by 2015 (SBI Energy, 2010).
Who Will Benefit?
Duke University's report, "U.S. Smart Grid: Finding New Ways to Cut Carbon and Create Jobs," identifies 334 U.S. company locations in 39 states that are already developing or manufacturing products for a smart grid. All regions of the country will benefit.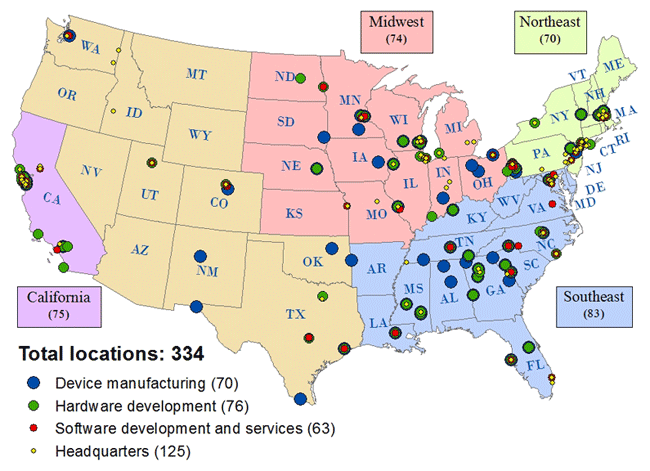 For example, Chicago-based S&C Electric Company, founded in 1911, acquired new customers in the smart grid market. The company holds thousands of patents in switchgear, interrupters, and other transmission-voltage devices.  In the past four years, its business has expanded approximately 50%, according to the company, with new products such as a truck-sized device that connects wind farms to the grid.   Today, most of S&C's products are made in the United States and Canada, with only a small portion made elsewhere.  In all, the U.S. workforce totals about 1,700 employees, including more than 1,000 machinist, manufacturing, assembly and support positions, 200 engineers and technicians, a global sales force, and finance and accounting offices.
Global Expansion
Export markets are promising as well.  According to Duke, "Italy's 30 million installed smart meters all use Echelon (a U.S. company based in California) technology.  Echelon has recently won large contracts in China, Russia, and Denmark." 
As former Google CEO Eric Schmidt noted, "Many companies can skirt downturns entirely by coming up with innovations that change the game in their industries – or create new ones."  That's exactly what companies identified by Duke, from well-known IBM and other partners in our Pecan Street Project to companies such as Cooper Power Systems, are doing as they expand their offerings to meet the demands of the smart grid value chain.  
Just last Friday, Eric Spiegel, President and CEO of Siemens Corporation, announced that their "orders and sales are increasing and [they] have added more than 1,000 new jobs to our U.S. workforce in just the last two quarters to keep up with the demand."  All three of the company's sectors – Industry, Energy, and Healthcare – contributed to these results, but job growth was concentrated in the Industrial Automation, Building Efficiency, Smart Grid, and IT areas.  Encouraging news all around.