This post is by Lisa Moore, Ph.D., a scientist in the Climate and Air program at Environmental Defense Fund.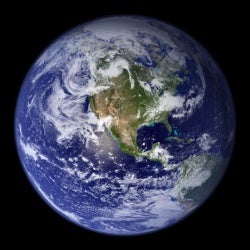 Have you ever spent time scrolling through NASA's image gallery? Some of the pictures are mesmerizing. I particularly like the "Blue Marble" image of the Earth (at right), which was stitched together using satellite data.
Satellites provide more than pretty pictures. Our ability to understand and predict climate change depends on continuous high-quality satellite data.
Unfortunately, this critical data stream is threatened by budget cuts and lack of political support. In 2005, the National Academies assessed the situation and deemed it "alarming". Three years later, the outlook has not improved.