This post is by staff scientist Lisa Moore and EDF's chief scientist, Steven Hamburg.

As you know by now, a few weeks ago, hackers stole over a decade's worth of emails from the University of East Anglia's Climate Research Unit (CRU). Climate change deniers cherry-picked a few phrases from those emails, took them completely out of context, and claimed that they disprove global warming. Nothing could be further from the truth.
There are already a lot of thorough responses to this manufactured non-scandal, including several RealClimate posts (e.g., here and here); a Nature editorial; statements from leading scientists and professional organizations such as the American Meteorological Society and the American Geophysical Union; an Associated Press analysis; a story in Time magazine; a Washington Post interview of a science historian; and (our favorite) a "Climate Denial Crock of the Week" video from Peter Sinclair, featuring Beavis and Butthead. Because the facts can't be stated too many times, here's our own response.
The data showing climate change are solid and overwhelming
The evidence for global warming comes from thousands of thermometer readings over many decades, analyzed independently by different research groups. CRU is one of four agencies that reports global temperature trends. Each of these four—NASA, NOAA, CRU, and the Japan Meteorological Agency (JMA)—works independently of the others to process raw temperature data. Even though they use different methods, all four agencies' results show marked warming trends over the past several decades: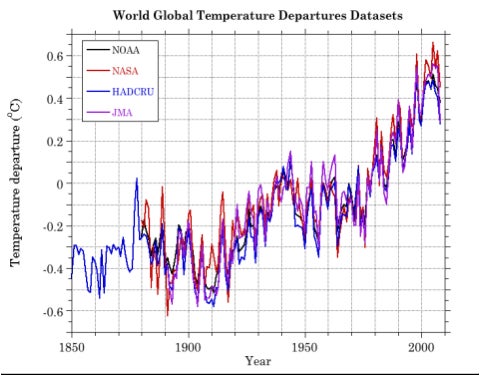 Figure by Dr. Michael Schlesinger, Univ. of Illinois, using results from all four agencies.
You can even do the analysis yourself since the raw data are available online. This sort of independent verification is a hallmark of scientific research. Scientists are always double-checking each other's work to see if they can replicate the results. When multiple, independent researchers come to similar conclusions, it increases their confidence in their understanding of whatever is being studied. In this case, the data clearly show global warming.
And even beyond all this temperature data, the signs of global warming are everywhere:
Satellite data, photographic records, and on-the-ground observations confirm that ice sheets and glaciers are melting.
Tide gauges and satellite data show that sea levels are rising.
Ground surveys by researchers and citizen scientists, and satellite data, have documented dramatic changes in the geographic ranges and lifecycle timing of Earth's plants and animals.
As with the temperature record, these datasets have been assembled and analyzed by independent researchers from a variety of specialties. Together, these independent lines of evidence consistently show a rapidly warming world.
What the stolen emails really said
Despite this overwhelming body of evidence, the climate change deniers claim to have proof that global warming is a fraud. Their claim is based on two cherry-picked phrases from the stolen emails, taken wildly out of context. Here they are, with the real story.
In the first email, from 1999, Dr. Phil Jones says "I've just completed Mike's Nature trickof adding in the real temps to each series … to hide the decline." Denialists are latching desperately to "trick" and "hide the decline" in an attempt to nullify the whole body of evidence for global warming. Here's what they've completely misunderstood:
First, as Nature explains, "'trick' [is] slang for a clever (and legitimate) technique". In fact, the technique mentioned in the email was published in Nature by Dr. Michael Mann (thus "Mike's Nature trick").
Second, what about the "decline"? This refers to the well-known "divergence problem" between tree ring data and actual temperature records. Prior to about 1960, tree ring density tracked temperature change quite well, so scientists considered tree rings a decent proxy for temperature when or where actual measurements were not available. But for reasons scientists are still trying to figure out, tree rings became less responsive to temperature around 1960. In fact, if you compare actual temperatures to tree rings over that time period, the tree ring record appears to decline, even though we know from thermometers that temperatures continued to increase. So it's wrong to use the tree rings as part of a temperature reconstruction if you know they're inaccurate. Dr. Jones was "adding in real [temperature data]" to replace those faulty proxies. Nefarious, eh?
The second email that climate change deniers cling to is by Dr. Kevin Trenberth, in which he said, "The fact is that we can't account for the lack of warming at the moment and it is a travesty that we can't." Here, Trenberth was lamenting the fact that we don't have adequate observing systems in place to track the details of how heat is distributed among Earth's systems over short time periods. In fact, Trenberth has explained this problem at length, for example in this paper [PDF]. Remember that science advances by focusing on what we don't know. In this case, Trenberth was drawing attention to a gap in our understanding of (and the shortage of available data on) short-term internal climate variation. Don't mistake a discussion of specific uncertainties for a lack of overall understanding.
There's also been some discussion of emails that reveal scientists' frustration about what they felt was harassment by the denier camp. Some of these emails are unseemly or even downright insulting to particular individuals, but ultimately we think these comments are merely a reminder that scientists are human and can say not-so-nice things about other people in private.
The bottom line is that there is absolutely no evidence that these scientists altered data. And even if you completely ignore CRU's temperature reconstructions, you're still left with an overwhelming amount of independent evidence that Earth is warming rapidly, and that this trend is due to human activities.
The real scandal is that by intentionally sowing confusion, climate change deniers have delayed action on climate change for a very long time. We owe it to our economy, national security, health, and ecosystems—and to future generations—to ignore these kinds of "nontroversies" and finally pass strong cap-and-trade legislation.