This post is by Lisa Moore, Ph.D., a scientist in the Climate and Air program at Environmental Defense Fund.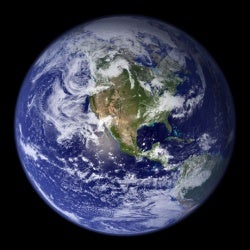 Have you ever spent time scrolling through NASA's image gallery? Some of the pictures are mesmerizing. I particularly like the "Blue Marble" image of the Earth (at right), which was stitched together using satellite data.
Satellites provide more than pretty pictures. Our ability to understand and predict climate change depends on continuous high-quality satellite data.
Unfortunately, this critical data stream is threatened by budget cuts and lack of political support. In 2005, the National Academies assessed the situation and deemed it "alarming". Three years later, the outlook has not improved.
What Satellites Can Tell Us
Here are just a few examples of the indispensible role satellites play in weather and climate science. Satellites have provided a way to:
But crucial information like this may not be available in the future. Many planned satellite missions have been delayed, pared down, or cancelled due to budget cuts. For example, sensors that would have measured important climate-related variables such as solar irradiance, aerosols, and sea level have been removed from the upcoming National Polar-orbiting Operational Environmental Satellite System.
Existing satellites don't last forever, so these cutbacks put long-term records at risk, precisely when we need all the information we can get about climate change and its effects.
We Need Funding for Satellites
The National Academies Press has published several reports (here, here, and here) proposing short-term solutions that would avoid gaps in crucial datasets. But what we really need is a long-term commitment to a unified, high-quality Earth observation program.
This issue is so pressing that it was highlighted in a recent editorial in the journal Nature, which called on the next U.S. president to make Earth observation a priority. As Nature put it, "Providing for continuous high-quality climate data would be a substantial legacy, serving the interests of both U.S. citizens and the rest of the world for decades to come."