This blog was co-authored with Erik Kamrath, Hydrogen Advocate, Climate and Clean Energy at NRDC and Pete Budden, Advocate, Climate and Clean Energy at NRDC.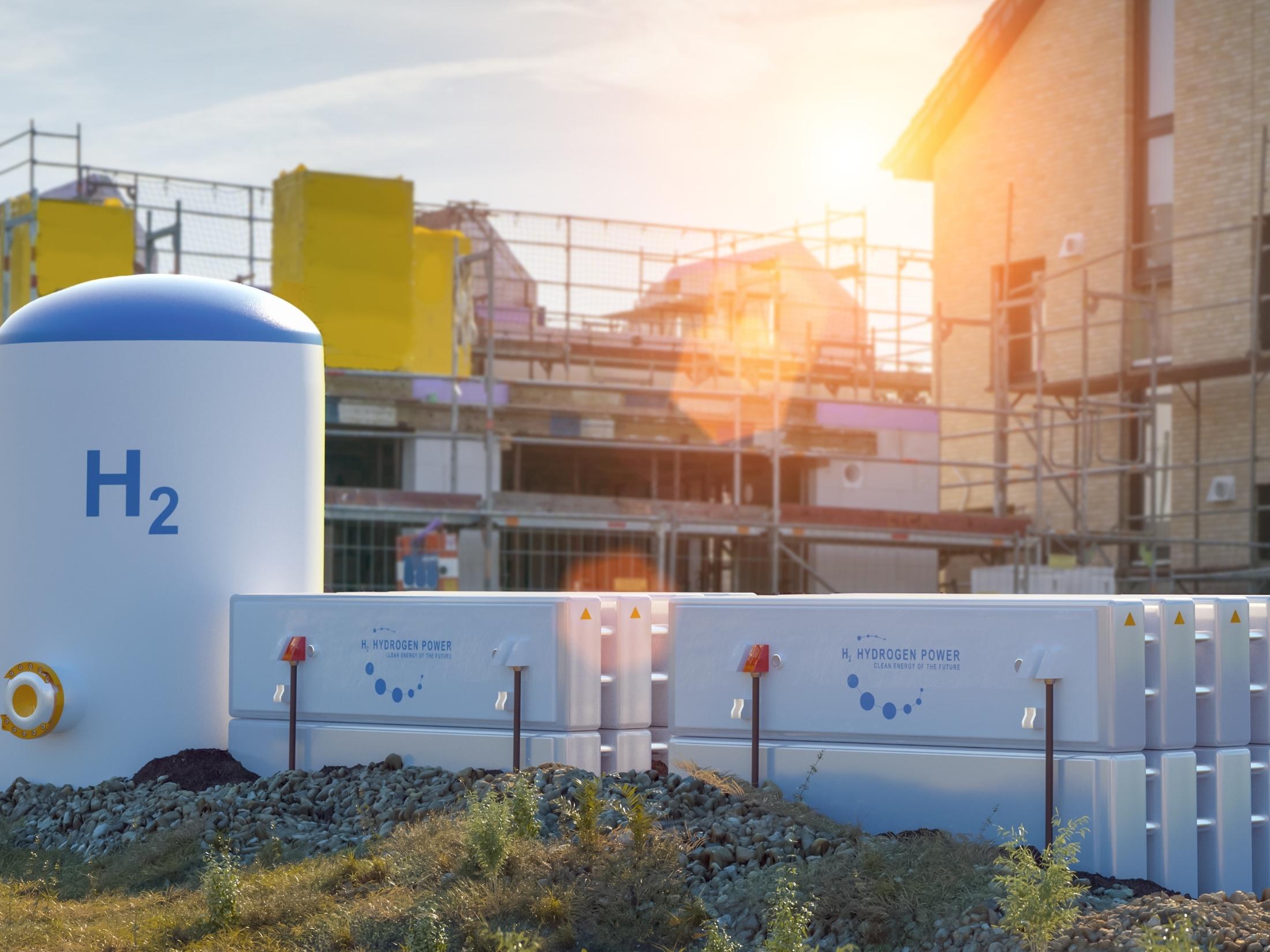 After much anticipation, President Biden and the Department of Energy (DOE) announced on October 13th the winners of the DOE hydrogen hub (H2Hub) program — a program intended to leverage networks of "hydrogen producers, consumers and local connective infrastructure to accelerate the use of hydrogen as a clean energy carrier." The program will provide a $7 billion funding stream created by the Bipartisan Infrastructure Law to be split between seven H2Hubs spanning 16 states. The projects will include a mixture of hydrogen produced with renewable energy, hydrogen derived from natural gas with carbon capture, and other fuel sources including nuclear power and biomass. H2Hubs will also house a diversity of hydrogen end-uses, including in heavy industrial processes and long-haul transportation.
The H2Hubs program is meant to catalyze the establishment of a U.S. clean hydrogen market and spur private investment in this emerging technology. It has created a burst of interest and activity over the past year as states and developers raced to clinch federal dollars. Tremendous effort and creativity on the part of many stakeholders — ranging from Hub developers to government agencies and public interest organizations — has brought us to this point of project selection. But we have a word of caution to both DOE and the selectees moving forward.
Hydrogen has promising potential to help the U.S. reach its climate goals, but the Hubs are where the rubber hits the road: these are formative opportunities to get the technology right from the start. The development of the U.S. hydrogen landscape will involve new infrastructure, new workforces, and new end-uses. The resulting market will have a significant impact on the energy landscape and the communities where it is built. Climate alignment and equity are imperative if hydrogen is to be an effective climate solution, and that means planning and designing the industry cannot be done without robust public engagement.
Robust public engagement, in turn, isn't possible without transparency, but transparency is not the norm. Historically, large industrial facilities have shared little information with the public, leading to a well-established lack of trust between many communities and developers, an "us versus them" mentality, and a sense of anger and unaccountability if something goes wrong or promises are not delivered. Some confidentiality is a part of business, but we have a lot of room to do better, especially when taxpayer dollars are on the table. We also know that community engagement improves projects, increasing buy-in and trust through disclosures that can help turn opposition into support. When considering the efficient design of the Hubs, their social or environmental impacts, and the multitude of lessons we hope to learn from them, a higher level of transparency is both possible and necessary. DOE can help set the bar.
On this front, the first steps for the program were concerning – many stakeholders, including state organizations, community groups, and NRDC and EDF commented on the program's early lack of transparency, which can undermine the public's ability to evaluate the climate and community bona fides of a project, and erode durable public support for clean hydrogen as a climate solution. DOE made a few steps in the right direction in the announcement of the awardees for the H2Hubs program: they provided some very high-level details including the general locations of the hubs, expected emissions reductions, categories of planned hydrogen production and end-uses, high-level details of planned community engagement, and projected job creation. We appreciate these steps, but so many more are needed, especially given the H2Hubs' high stakes for communities, public health, the climate, local economies, and the billions in taxpayer dollars on the table.
Now that the Hubs have been selected, DOE should step up transparency and unlock higher quality accountability and community engagement. The success of the H2Hubs and the future of public trust in clean hydrogen as a net positive for climate and communities depend on it.
Executive Director of the Indiana Conservation Voters, commented on the H2Hubs application submitted by the Midwest Alliance for Clean Energy (MachH2): "Environmental, labor and justice community leaders must be included in these publicly funded multibillion-dollar industry-led proposals for hydrogen. That's a simple thing that we think "MachH2" should be able to meet."
Going forward, to promote transparency and foster meaningful engagement, we recommend the following, non-exhaustive approaches:
1. Demonstrate beneficial stewardship of public funds: As H2Hubs projects progress, DOE should publish key components of selected H2Hubs applications, including specific locations of proposed projects, projected community-identified benefits for projects, projected local pollution impacts, emissions impacts, planned hydrogen transport and storage infrastructure, and relative volumes of hydrogen deployment in various end-uses (e.g.,  disclose the volume of hydrogen being used for heavy duty transportation vs. steel production in the Midwest H2Hub).  This information can be shared without undermining confidential business information.
2. Foster meaningful public and community engagement: DOE should engage in meaningful public engagement, especially during the first phase of negotiations over the next 12-18 months: NRDC, EDF and partners had advocated for a public comment period and public hearings to be held before DOE's announcement of the H2Hubs, but with that boat missed, it is even more important to shift course and allow for meaningful public engagement moving forward.
DOE should ensure robust public engagement in H2Hubs governance and decision-making: DOE should require all H2Hubs winners to include local community and environmental justice groups in decision-making positions within the H2Hubs governance structure and secure financial resources for local community and environmental justice groups to enable such engagement. Public engagement cannot be considered public if it is burdened by restrictive requirements, like requiring non-disclosure agreements. Additionally, all winners should be required to work with communities to ensure these projects will deliver concrete, community-identified benefits, including good union paying jobs, air pollution reduction, and other benefits included in transparent Community Benefits Plans. 
3. Embed transparency requirements across the life of the hubs: In addition to the initial information about project applications already shared, DOE should embed transparency requirements for project applicants across the life of the hubs. This includes requiring applicants to have a plan for ensuring communities and advocates have access to project information across the lifetime of the project; including these criteria in go/no-go decisions; and requiring progress made toward such outcomes be reported to DOE annually through public reports.
Course correction on transparency is urgent: The success of the H2Hubs program rides on it
Moving forward, DOE and the newly anointed hubs should step up information sharing to both enhance accountability and enable meaningful community participation. The H2Hubs program is the trendsetter for DOE's demonstration programs, and this next phase of development will set many precedents. Now is the time to get it on track with transparency at its core. Failing to do so could erode trust in hydrogen and drive more vigorous local opposition in the H2Hubs' deployment phases, result in projects that set bad precedents and cause harm to local communities, and ultimately squander hydrogen's potential.
More Hub-related recommendations from our organizations
In addition to the recommendations listed above, Natural Resources Defense Council (NRDC) and the Environmental Defense Fund (EDF) have been active at formulating additional recommendations on the elements of a successful H2Hub program. To learn more:
NRDC has recommended that DOE select hydrogen hubs that prioritize green hydrogen (hydrogen produced through the electrolysis of water using renewable energy), target its use in sectors that are otherwise hard to decarbonize (i.e. steelmaking, fertilizer, maritime shipping), center public health and equity, and significantly step up transparency and information sharing in DOE's decision-making process.
EDF shares these priorities and has further emphasized the importance of accounting for climate risks associated with hydrogen and methane emissions. In the interest of helping to define what a  "better" Hub project could look like across a wider array of outcomes, it also established the Betterhubs initiative – a platform focused on articulating and supporting a "high-road" approach to industrial hubs among governments, project developers, and communities. BetterHubs is built around 10 core objectives  that summarize the main environmental and social considerations that should be present for a Hub to ensure positive outcomes on the ground. These include tracking and ensuring positive outcomes for a variety of environmental and community impacts and enabling strong stakeholder engagement.  Both are critical to foster more equitable and meaningful dialogue and actions that lead to positive outcomes for climate, businesses, and communities.