It's the beginning of a new year and this year – despite some opposition – can be the year Virginia turns the corner to embrace a clean energy economy future.
Virginia has already taken critical steps in its clean energy transition to make communities more resilient and to address climate change. Steps like joining the Regional Greenhouse Gas Initiative (RGGI) – a multistate program under which power companies pay for the pollution they create – passing legislation like the Virginia Clean Economy Act to establish a 100% clean energy standard and commit to a zero-carbon-emissions electricity grid by 2050 and having deployed nearly $100 million in RGGI funds for flood risk reduction from Roanoke to the Eastern Shore in less than two years, with more to come.
Major federal legislation recently passed in the form of the Bipartisan Infrastructure Law (BIL) and the Inflation Reduction Act (IRA) will supercharge those efforts with increased funding for infrastructure projects, clean energy initiatives and tax incentives, climate resilience, and other programs that address the climate crisis and create good jobs. In 2021 there were already 92,315 Virginians employed in clean energy jobs. Clean energy jobs outnumber fossil fuel jobs and young people overwhelmingly want to work in industries that are serious about addressing the climate crisis.
Virginia is only beginning to see the funding opportunities flowing from these unprecedented federal investments. Here are three examples highlighting how the BIL and IRA are having an impact:
1. Electric Vehicles and charging stations
The IRA makes buying electric vehicles (EVs) easier and cheaper, with thousands of dollars in tax credits to buy new and used EVs. The bill also includes tax credits for electric heavy duty trucks, like the ones produced at the Volvo Trucks New River Valley Plant. Switching to zero and low-emission vehicles will help lower air pollution from Virginia's highways and roads and save Americans money at the pump.
To support the increase in EVs on the road, the Commonwealth is planning an EV charging network with stations along busy transportation corridors across the state, funded with $5 billion from the BIL.
An additional $106 million from the BIL could fund over 883 DC Fast Chargers. Using these resources to build a robust EV charging network will increase EV vehicle adoption in Virginia, driving down climate pollution and creating jobs.
2. Clean School Buses
A popular BIL program is the EPA's Clean School Bus Program, which has awarded nearly $30.8 million to 11 school districts in Virginia to replace existing diesel school buses with 78 electric models. Electric buses reduce air pollution inside and outside a bus, making them safer for children and communities by emitting little to no greenhouse gas emissions and making black diesel fumes a thing of the past.
Demand for the program and its electric buses is so high it has spurred the EPA to increase funding to nearly $1 billion.
3. Cleaning up our electric grid
Virginia's electric power sector will also benefit from federal investments. The IRA modified and extended tax credits for renewable energy projects, like deployment of wind farms and solar arrays, and states with strong, binding pollution limits like RGGI will have greater incentives to use these tax credits to their advantage.
Once-in-a-generation federal investments will help build the clean, reliable and affordable power grid of the future. It only takes one extreme weather event like the unexpected and unplanned deep freeze in Texas a year ago to wreak havoc on older, existing power grids.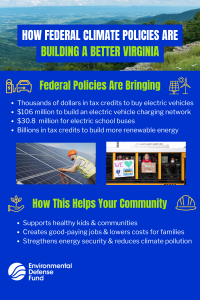 Virginia's clean energy future
Virginia cannot afford to miss this opportunity to leverage federal dollars for necessary electric power sector investments, to be a climate leader and grow jobs in the clean economy.Smart state policies will work in tandem with the federal investment programs, increasing their impact. Analysis from EDF shows that federal programs like the IRA will spur at least 10 times the amount of investment from the private sector.
It is encouraging to see many state agencies recognizing the opportunity and engaging to secure federal funds to invest in Virginia – proving that investing wisely in the clean economy to benefit all Virginians does not need to be a partisan issue. This is an all-hands-on-deck moment and we need the Governor, legislature, business leaders, and local officials all working in unison to ensure these crucial funds are accessible and easy to apply for, especially for businesses, counties, towns, schools, and other community organizations. Virginia's clean energy future depends on it.