After winning on the strongest climate platform of any major party presidential nominee in history, the Biden-Harris administration has a mandate to confront the existential crisis of climate change. This blog series explores what it will take to restore and strengthen climate leadership both across the country and on the global stage.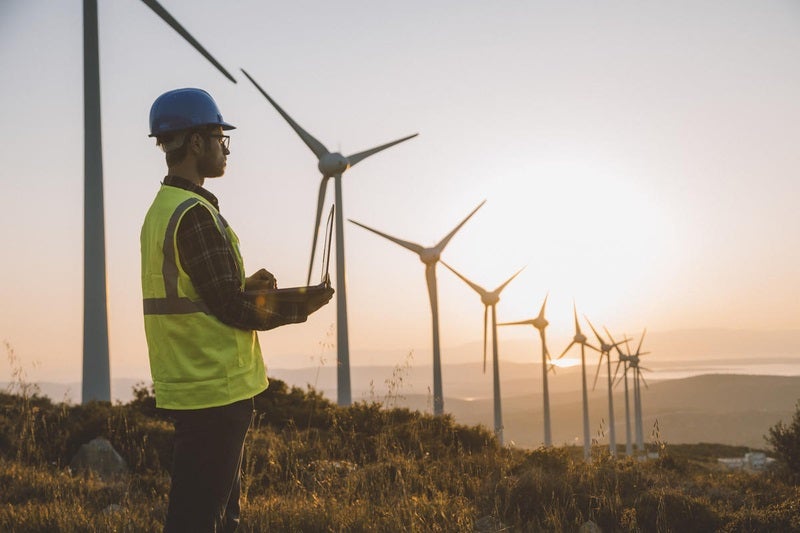 Of the many items on the to-do list for the Biden administration, one of the first priorities must be to work with Congress to accelerate recovery from the COVID-19 pandemic. While the year-end stimulus bill recently passed by Congress gave some support to struggling families and businesses, significantly greater economic relief and stimulus investments are needed to ensure an equitable economic recovery.
There is enormous opportunity to "Power Up, America" by rebuilding an economy that is stronger and more equitable than before—one that helps protect current and future generations by investing in solutions that simultaneously address the urgent climate crisis, create good-paying jobs and build healthier communities. While stimulus spending alone will not be enough to meet necessary climate goals – achieving a 100% clean economy in the United States no later than 2050, and cutting emissions 50% below 2005 levels by 2030 to get on that path — well-targeted investments can reduce climate pollution in the near term and help buy down the costs of longer-term reductions.
Congress should take this opportunity to invest in clean energy across the economy, with an emphasis on cleaning up the power sector and electrifying transportation. Investment in these two sectors can create millions of jobs, save thousands of lives through cleaner air and make American businesses more competitive.
The year-end stimulus bill contained several important climate and clean energy provisions, such as a phaseout of the powerful super-pollutants known as HFCs and a temporary extension of key renewable energy incentives, but much more will be needed to meet our long-term climate goals. New policies will also be needed to fill the gaps in the package, including policies to advance equity and accelerate deployment of electric vehicles, both of which were included in earlier versions of the bill but were notably absent from the final deal.
As policymakers consider what to include in an early 2021 economic stimulus package, there are a number of important factors they should take into account: Which clean energy policies can curb the most pollution? Create the most jobs? Improve health and equity? And provide the most bang for the buck? Congress should prioritize policies that will generate the most benefits for economic recovery, health, equity and climate action.
Investments in power and transportation can yield substantial benefits
In a new report, EDF assessed the landscape of stimulus policy options to reduce emissions across the economy and evaluated potential performance on these criteria: near-term emissions reductions, potential to enable future emissions reductions, job creation potential, health and equity benefits, and cost-effectiveness.
Cleaning up the power sector and electrifying transportation stand out as priority areas for investment. Together, these two sectors account for more than half of all U.S. greenhouse gas emissions.
But near-term reductions are only one piece of the puzzle—investing in these sectors now will also unlock significant emissions reductions down the road. Cleaning up the power sector, by increasing low-carbon energy sources and modernizing the grid, will enable reductions as other sectors like transportation and buildings become increasingly electrified. Similarly, policies to increase adoption of zero-emission vehicles and support clean vehicle manufacturing supply chains today will help to drive down the costs of these clean alternatives and generate momentum to accelerate the transition to clean vehicles in the long-term.
Targeted investments in cleaning up our electricity and electrifying transportation also have the potential to employ millions of people, reduce human exposure to harmful air pollution, and help to generate health and economic benefits in underserved and overburdened communities that are typically in closer proximity to highways, ports and truck-attracting businesses.
Key policies for accelerating the transition to clean power and transportation
To maximize benefits across emissions, jobs, health and equity, federal policymakers should prioritize these policies to clean up the power sector and electrify transportation:
Reform, extend, and expand clean energy tax credits to spur greater clean energy deployment. Congress can stem job losses from COVID-19, create new jobs, and reduce climate-warming and health-harming pollution by extending existing incentives for clean energy production through 2030 and expanding eligibility to cover a broader array of clean energy technologies. The short-term extensions for solar and wind tax credits included in the year-end stimulus bill will help ensure continued growth for these industries over the next year or two, but must be lengthened to provide longer-term investment certainty and emissions benefits.
Invest in grid modernization and transmission infrastructure. These investments could support tens to hundreds of thousands of high-paying jobs and reduce emissions by allowing more renewable energy like wind and solar on the grid and supporting widespread electrification.
Incentivize medium-and-heavy-duty vehicle (MHDV) electrification. Congress can kickstart the transition to electric MHDVs by focusing first on the market segments where electrification will yield the greatest health, equity and economic benefits, such as school buses, commercial truck fleets, and port freight trucks.
Provide incentives for light-duty vehicle electrification. Congress can accelerate the critical transition from gas-powered to electric passenger vehicles and create new jobs in vehicle manufacturing by enacting policies which lower barriers to clean vehicle adoption, accelerate stock turnover, build charging infrastructure, and provide equitable access to clean vehicles.
Support domestic manufacturing and supply chains, including production of batteries. In addition to encouraging people and businesses to buy electric vehicles, Congress can support the transition to clean transportation and create high-quality jobs in the U.S. by directly supporting the manufacturers responsible for building these vehicles and their components.
Invest in mass transit infrastructure and electrification. Nearly 3 million essential workers rely on public transit to get to their jobs, making the solvency of mass transit critical to both the public health response and the economic recovery. Many more millions, especially in low-income communities, rely on public transportation for their daily commutes. Congress should provide emergency funding to keep systems running during the crisis as well as longer-term investment aimed at expansion and electrification of existing services.
Additional key policies lawmakers should consider
Beyond power and transportation, policymakers should consider a handful of cross-cutting policies that have significant potential to accelerate emissions reductions across the economy, as well as targeted investments that can leverage reductions in other sectors.
Key opportunities include:
Doubling federal clean energy RD&D by 2025 to accelerate American innovation.
Creating thousands of new jobs cleaning up orphan oil and gas wells to prevent harmful methane emissions and reduce groundwater contamination.
Establishing a national green bank or technology deployment administration to provide targeted public investment in, and accelerate the deployment of, emerging low-carbon technologies in sectors across the economy.
Offering federal debt forgiveness to companies and utilities in exchange for reducing their emissions.
Supporting state and local governments' efforts to reduce emissions through grants and technical assistance.
Incentivizing the buildout of clean manufacturing by reinstating and expanding the Section 48C Advanced Manufacturing Tax Credit.
After a year of unprecedented climate-fueled disasters including back-to-back wildfires, severe hurricanes and extreme heat, it is past time for leaders to tackle the existential threat of the climate crisis. To curb the worst impacts of climate change, the Biden administration needs to take bold steps —including significant, near-term investments as part of a Congressional stimulus package, robust regulatory action under existing law and ultimately, new legislation that establishes enforceable limits on pollution across the economy.
That work must begin immediately. Climate change will not wait for the pandemic to end. As our new report demonstrates, there are a number of promising options for making a down payment on a cleaner, healthier future, while creating jobs and boosting a COVID-battered economy.
Read the full EDF report on stimulus policies here.