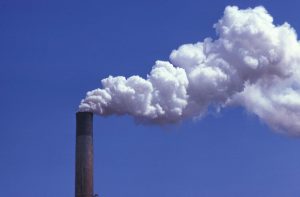 Today, the Trump administration finalized a rushed and inadequate review of our national particle pollution standard – otherwise known as PM 2.5, or soot. They ignored public input and the latest body of health science, and decided to keep a weak standard in place.
The decision by Trump's EPA means that Americans – particularly Black, Latino, Indigenous and other communities of color – will be exposed to elevated levels of harmful air pollution. It's a decision that the incoming Biden-Harris administration should immediately reverse and replace with strong standards that reflect the clear scientific evidence and protect all Americans.
Here are three things you should know:
The science is clear. Our current national soot standard does not adequately protect Americans' health.
Particulate matter refers to small airborne particles that are emitted by fossil fuel combustion, usually from the transportation sector, power generation, and oil and gas production. Particulate matter penetrates deep into the lungs and can cause a variety of health complications. It's linked to asthma attacks, bronchitis, heart disease, and tens of thousands of premature deaths every year in America
The latest health science considered by EPA unequivocally points to the need for a more protective standard. EPA's own analysis of 47 urban areas found that even if the weak current standard was universally met, long-term particulate matter exposure would still be associated with as many as 52,100 premature deaths each year.
The current standard for particulate matter is 12 micrograms per cubic meter. EPA's record shows that if the standards were lowered to 9 micrograms per cubic meter, it could save as many as 34,600 lives each year.
Dominique Browning, co-founder and head of Moms Clean Air Force, told the Washington Post today that "[t]his flies in the face of good science and good public health. It is outrageous. It builds in years more of assaults on the human body, especially in places where people are breathing the worst of it. It just basically sends a message of not caring about people."
EPA ignored the serious environmental justice implications of its decision to keep the current soot standards.
EPA's failure to set a sufficiently protective soot standard threatens the health of all Americans, but it disproportionately harms Black, Latino and low-income communities because of their proximity to industrial facilities, ports and freeways.
A 2018 study by EPA scientists found that "[n]on-White populations overall experienced 1.28 times the burden of the general population, and Black populations, specifically, experienced the greatest degree of disparity in the siting of PM emitting facilities at national, state, and county levels, burdened with 1.54 times the PM emissions faced by the general population."
Bridgette Murray, a retired nurse who lives in a historically Black neighborhood in east Houston that has long suffered from air pollution, also spoke to the Washington Post today. She called our current soot standard "an artificially-high standard that is supportive of industry." The Houston Ship Channel, a freeway, warehouses and industrial facilities surround Murray's community. "Very little is being done to help those who are exposed to that pollution on a day-to-day basis," she said.
EPA's Integrated Science Assessment and Policy Assessment both acknowledge the disproportionate impact of PM2.5, noting that there is "strong evidence for racial and ethnic differences in PM2.5 exposures and in PM2.5-related health risk. Such analyses indicate that minority populations such as Hispanic and non-Hispanic black populations have higher PM2.5 exposures than non-Hispanic white populations, thus contributing to adverse health risk in non-white populations (U.S. EPA, 2019, section 12.5.4)." (Final Policy Assessment).
However, when the Trump EPA proposed keeping the current standards, it wrote that "this action does not have disproportionately high and adverse human health or environmental effects on minority, low-income populations and/or indigenous peoples." (Federal Register announcement)
The Trump EPA's rushed review process – forced through during a pandemic – prevented full public participation   
Trump's EPA departed from longstanding practice for this review, eliminating key scientific expertise and shortening or eliminating opportunities for public review.
The administration's rushing of the scientific review process minimized the scientific evidence that supports tightening these life-saving protections. The While House Office of Management and Budget canceled scheduled meetings to discuss this evidence with public health and environmental group. EPA Administrator Andrew Wheeler even disbanded EPA's own particulate matter subcommittee, which has the epidemiological expertise needed to review the standard. That prevented a robust evaluation of the relevant health science. In addition, the public comment periods for key documents were shortened, despite extra complications in submitting comments because of the COVID-19 pandemic.
Today's decision is only one piece of the Trump administration's broad-based assault on public health, including the health of vulnerable communities. Just since the coronavirus crisis began, Trumps EPA has rolled back America's popular and successful Clean Car Standards, and has finalized a loophole in the laws protecting Americans from hazardous industrial air pollution. President-elect Biden should add today's decision to keep inadequate soot standards to the long list of unhealthy Trump administration actions – and expected actions – that need to be fixed.