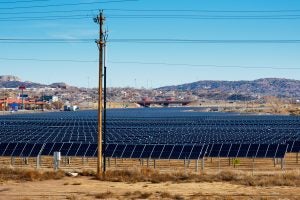 Arizona's largest utility, Arizona Public Service, has joined over a dozen other power companies across the U.S. that have committed to delivering 100% carbon-free electricity by 2050. These commitments, which add to momentum for ambitious climate action and would significantly reduce health-harming pollutants that contribute to soot and smog, are a key step in addressing one of our nation's leading sources of climate pollution. They also highlight the types of action that will be required across all sectors of the U.S. economy to reach net-zero economy-wide carbon pollution by mid-century, a target guided by science and supported in recent bills introduced in the U.S. Senate and House of Representatives.
Not only do these commitments show strong federal policy is feasible, they underscore that the Trump administration's efforts to dismantle limits on carbon pollution from existing power plants ignore the most effective strategies for reducing pollution from the power sector. In fact, nine of the nation's leading power companies recently submitted a brief in court opposing the Trump administration's rollback for this very reason.
At the same time, these commitments by themselves are not enough. Due to the cost-effective pollution reduction opportunities in the power sector and the urgent need to reduce climate pollution by electrifying other sectors, even more ambitious near-term targets from power companies will be needed to achieve net-zero emissions economy-wide by 2050. In addition, commitments alone from power companies must be followed up with concrete actions that will achieve real reductions in carbon pollution – and reduce other harmful pollutants associated with premature death and respiratory illnesses.
Ambitious near-term targets and action needed
As the nation's second-largest source of carbon pollution, the power sector must make significant and rapid reductions in carbon pollution. To reach net-zero economy-wide carbon pollution by 2050, as laid out by the bills recently introduced in the House and Senate and avoid the most severe global temperature rise, power companies must support their net-zero mid-century goals with ambitious near-term targets and real-world action. Power sector carbon pollution reductions of 80% or more by 2030 capture the magnitude of reduction and degree of commitment to immediate action that will be necessary. It is crucial that power companies take action and pursue aggressive near-term decarbonization.
In Colorado, these commitments have been enacted into state law. Senate Bill 236 established a requirement for the state's largest utility to reduce carbon emissions 80% below 2005 levels by 2030, in line with Xcel's commitment.
Utilities across the country are setting strong goals
Other major utilities have followed suit with their own targets:
In February, Virginia utility Dominion Energy committed to net zero emissions by 2050 – covering both carbon dioxide and methane emissions.
In January, Arizona Public Service committed to 100% carbon-free power by 2050, with a midterm target of deriving 45% of its electricity from renewables by 2030.
Last November, National Grid revised their 2050 target from an 80% reduction to net-zero carbon pollution, after achieving a 68% reduction in emissions to date.
In September 2019, AEP revised its 2030 carbon pollution reduction commitment target from 60% to 70% below 2000 levels, after the company cut carbon pollution more rapidly than anticipated.
The same month, Duke Energy and DTE Energy joined several other companies in committing to achieve net-zero carbon emissions by 2050 and NRG accelerated its emissions reduction goal to align with a 1.5°C trajectory.
Avangrid, Avista, Hawaiian Electric, Idaho Power, Platte River Power Authority, and PNM have also all committed to net-zero carbon pollution by or before 2050.
PSEG has a vision of attaining net-zero carbon pollution by 2050 assuming advances in technology and public policy.
These targets are a good starting point, but are still a long way from matching the near-term ambition Xcel is demonstrating is possible on a 2030 time horizon.
Goals are important, but action is key
While these commitments are necessary, they must be translated into concrete action reflective of leading climate science in order to truly accomplish the necessary carbon pollution reductions to avoid the worst impacts of climate change.
For instance, in line with these climate commitments, many power companies are accelerating coal plant retirements, which is a crucial step to reducing carbon pollution:
Tri-State Generation and Transmission – a rural cooperative serving four western states – officially closed its Nucla coal-fired power plant in Western Colorado at the end of September 2019, over two years ahead of schedule.
In early October 2019, the Pacific Northwest and Rocky Mountain utility PacifiCorp released its integrated resource plan, which includes retirement of 16 of the company's 24 coal-fired power plants by 2030, with another four retiring by 2038.
PacifiCorp plans to close five coal-fired power plants in Wyoming by 2028, nearly 10 years ahead of schedule.
PNM has scheduled the retirement of its San Juan Generating Station in North Western New Mexico in 2022 and plans to remove coal from its energy mix entirely by 2031.
NV Energy has committed to eliminating coal by 2025 and Arizona Public Service's commitment includes a complete exit from coal by 2031.
A cleaner power sector will save lives and protect public health
Ambitious reductions in climate pollution from the power sector will also reduce the suite of other harmful pollutants that are emitted in massive quantities by fossil fuel-fired power plants – including soot- and smog-forming pollution, mercury and other heavy metals, and acid gases.  According to EIA, even a modest price on carbon pollution from fossil fuel-fired power plants could reduce soot- and smog-forming pollution from the power sector by over 80 percent in 2030. Reductions on this scale could have significant health benefits: a recent study of efforts to clean up coal-fired power plants in Louisville, Kentucky found that the reduced pollution resulted in hundreds of avoided asthma-related hospitalizations and emergency department visits each year in a single county.  Power company commitments – if followed up by action – would not only protect our climate, they would also save lives and improve health.
Shifting to clean energy has never been more affordable
These commitments reflect growing competition from renewables, which have plummeted in cost in recent years. Between 2010 and 2018, the cost of utility scale solar dropped by 77%. In the last year alone, global offshore wind prices have dropped by 32%. U.S. renewable electricity generation has doubled since 2008, and renewables are projected to be the fastest growing source of electricity generation in the coming years.
As coal plants have rapidly lost their economic advantage compared to renewables, the closure of coal-fired facilities translates to direct benefits for consumers. According to Xcel, its residential customer electric bill has decreased 3% in the past five years and is on average $28 lower per month than the national average. According to PNM, shutting down its coal-fired San Juan Generating Station will immediately result in savings of $6 to $7 per month  on an average customer's bill due to the lower cost of replacement resources. In fact, nationwide, according to the most recent EIA data, electricity prices are lower today than they were ten years ago, while the national energy mix has gotten significantly cleaner.
Company announcements show Trump is out of touch with market realities
Nearly all the power company commitments were made following the Trump administration's proposal to roll back the Clean Power Plan – our nation's only federal limits on carbon pollution from existing power plants – and "replace" it with an ineffective and harmful rule that sets no binding limits on carbon pollution and prohibits EPA from considering the effective pollution reduction strategies reflected in these power company commitments. The climate action of power companies is a powerful affirmation of the proven, cost-effective approach to reducing carbon pollution reflected in the Clean Power Plan – and an equally vivid demonstration that the rollback of the Clean Power Plan ignores market realities and EPA's legal responsibility to secure rapid reductions in carbon pollution from this sector.
Announcements show strong federal climate policy is achievable
The commitments of these power companies also demonstrate that public policy to cut climate pollution from this sector can be far more protective in achieving deeper reductions, faster. They must serve to inform more ambitious public policy that will achieve the necessary reductions in climate pollution, consistent with climate science.
Ultimately, these power company commitments show that it's possible to achieve deep reductions in carbon pollution while providing affordable and reliable service and highlight just how out of line the Trump administration's replacement rule is with the reality of decarbonization across the power sector. In the absence of federal leadership, states, cities and companies must take strong, immediate action to curb carbon pollution. However, private sector action alone is not enough and must be paired with policy that is anchored in science and can drive down pollution on a large scale – looking towards the goal of a 100% clean economy by mid-century – in order to protect the climate and the health of millions of Americans