(This post was co-authored by EDF intern Jayne Stevenson)
Summer brings sunshine, fun, and outdoor adventures – but unfortunately, it also brings smog that causes serious health problems for many American families.
We have made significant progress delivering healthier summer air, but many families still find themselves sidelined by ground-level ozone pollution – commonly called smog. That pollution will be made even worse by climate change.
New EDF analysis shows that so far in 2019 we've seen more than 2,500 smog exceedances – meaning ground-level ozone pollution monitoring stations recorded levels higher than allowed under the 2015 National Ambient Air Quality Standards for Ozone. (That limit is a maximum eight-hour concentration greater than 70 parts per billion).
Approximately 185 million people across America were exposed to at least one of those exceedances, which spanned 248 counties in 40 states and the District of Columbia.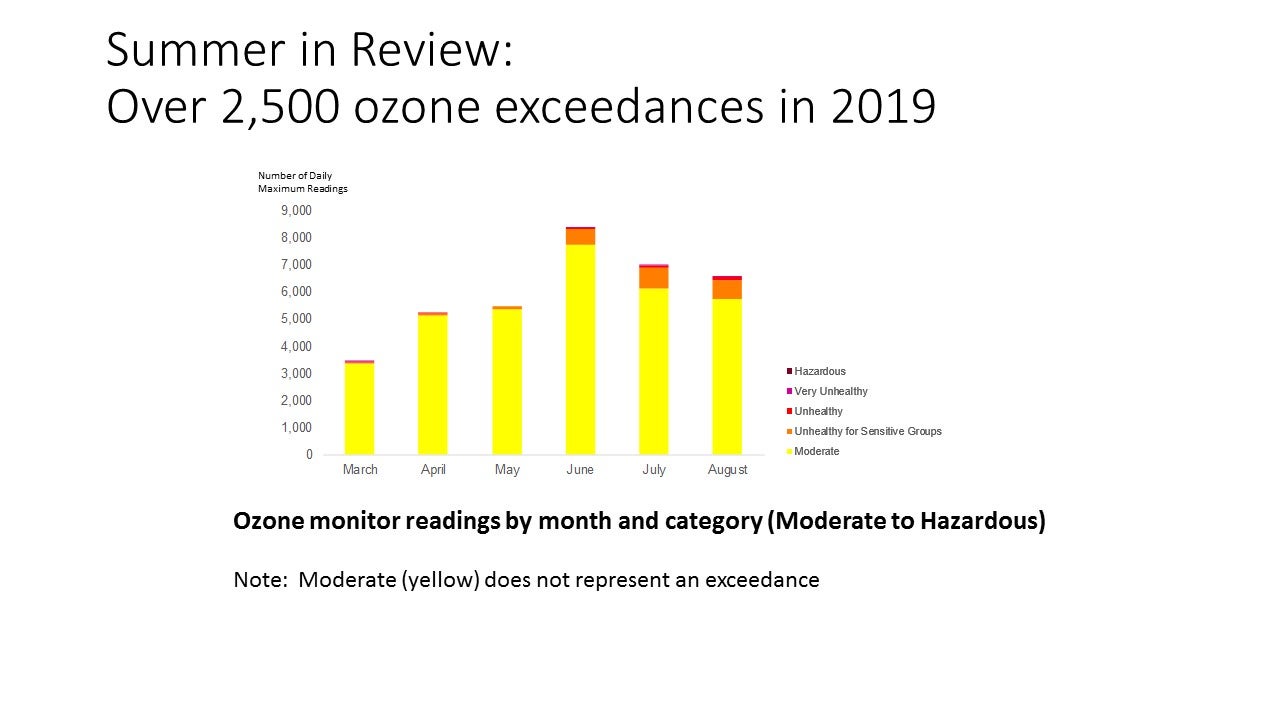 Our national parks were not spared from this pollution during their busy seasons either. Monitors in national parks in Arizona, California, Indiana, Maine, Nevada, New Mexico, and Texas recording 87 ozone exceedances in 2019. The National Parks Conservation Association noted in a recent report that ground-level ozone is one of the most widespread pollutants in the parks.
While we can thank the Clean Air Act for decades of protection from harmful pollutants, EDF's analysis shows that smog is still a threat – and, with climate change underway, needs our attention more than ever.
Ground-level ozone forms from the interaction of heat, sunlight, volatile organic compounds, and nitrogen oxides. The most common sources of these chemical precursors to smog include cars and trucks, power plants, and industrial facilities – including oil and gas pollution.
We know that smog poses serious threats to human health. A 2018 EDF analysis found that smog increases the risk of respiratory disease, heart disease, and early death. It also found that our current national ozone standard is not protective enough; smog exposure still causes approximately 5,000 premature deaths per year in the US.
Climate change increases ground-level ozone pollution and exacerbates its effects in various ways:
First, ground-level ozone formation depends on heat as well as chemical precursors. This means hotter global temperatures catalyze more of the chemical reactions that form the pollution – and there's no question that global temperatures are increasing (in fact, July 2019 was the hottest month on record for planet Earth). As temperatures increase we can expect to see more smoggy days across the country.
Second, warmer temperatures don't just enable ground-level ozone formation – they also create stagnant air conditions. This stagnation can lead to higher concentrations of ground-level ozone pollution, which increases the likelihood of harmful exposure.
Third, climate change's impact on extreme weather and disaster events also facilitates ground-level ozone formation. For example, wildfires, which are expected to grow more frequent in part due to climate change, release ozone precursors and particulate matter. The American Lung Association, in its State of the Air 2019 review of data from 2015 to 2017, found that Americans are "experiencing worsened ozone and particle pollution due to warmer temperatures and increased wildfires."
Climate change, air quality, and human health are inextricably linked. As global temperatures continue to rise, climate change impacts will touch all of our lives in one way or another, including through worsened smog in many places.
Despite decades of progress, and continued opportunities for further pollution reductions, the Trump administration wants to bring us backwards on environmental protections that reduce smog. The administration is attempting to weaken or repeal clean air protections such as the Clean Power Plan, the Clean Car Standards, and national oil and gas standards. It has also denied "Good Neighbor" petitions from states seeking relief from upwind polluters.
These actions will only worsen smog and increase the risk to human health. They'll also release more destructive climate pollution, including carbon dioxide and the climate accelerant methane.
We should be going in the opposite direction. We need an even stronger air quality standard for ground-level ozone pollution. EPA set the 2015 ozone standard at 70 parts per billion, an improvement from its prior level of 75 parts per billion – but EPA's own independent scientific advisory committee had recommended a range as low as 60 parts per billion as far back as 2006. In the past 13 years since that initial recommendation, the science has become even more compelling on the serious harms of smog and benefits of reducing exposure.
However, even the 2015 ozone standard isn't safe from attack.
EPA must review, and potentially revise, the National Ambient Air Quality Standards every five years. EPA's Clean Air Scientific Advisory Committee provides expert and independent advice for these reviews – but recently, Trump's EPA has made many concerning changes to the composition, processes, and approach of the Clean Air Scientific Advisory Committee. (Those changes have been well-documented by the Union of Concerned Scientists and others – see background here and here.)
The data from this summer is clear – smog continues to plague communities across the country, with the threat of climate change worsening the problem. Science tells us a stronger ozone standard is necessary to protect public health. That means our suite of clean air protections against smog – the ones that are under threat now – must stay in effect.
Our analysis also underscores the urgent need:
to restore scientific integrity to the National Ambient Air Quality Standards review process to ensure strong, science-based and health protective standards.
to ensure that the National Ambient Air Quality Standards reviews and all air quality planning activities to achieve or restore healthy air account for climate change. As the National Climate Assessment warned, "[u]nless counteracting efforts to improve air quality are implemented, climate change will worsen existing air pollution levels."
for EPA and states to address dangerous smog and climate pollution from major pollution sources that discharge large volumes of both contaminants, including transportation, power, and industrial sectors like oil and gas.
The Trump administration appears determined to take us in the wrong direction on smog. It will require the voices of parents, health and medical associations, environmental and environmental justice groups, and state and local governments to hold them accountable – and to press for the further progress we need to protect human health from smog.