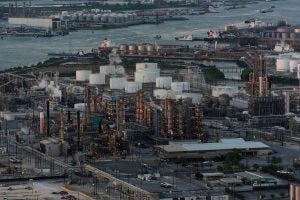 This post was co-authored by EDF Legal Fellow Surbhi Sarang
Earlier this year EPA created a pollution loophole that would allow industrial facilities to increase their emissions of toxic air pollutants like benzene, creating a huge risk to public health.
This week EDF and a coalition of seven other environmental, environmental justice, and public health organizations are saying 'enough,' and asking the courts to close this outrageous loophole.
Closing this damaging loophole is an important step in our fight to defend long-standing Clean Air Act protections that safeguard families and communities in the nation.
On Monday, the coalition filed an opening brief with the U.S. Court of Appeals for the D.C. Circuit explaining our case.
Why this loophole is so problematic
Under the Clean Air Act, large industrial facilities like refineries and chemical plants are required to obey strict pollution control standards (called "maximum achievable control technology" or "MACT" standards) once their emissions of toxic air pollutants exceed certain "major source" thresholds.
These standards are highly effective in reducing pollution – so effective that they often cause industrial facilities to reduce their emissions of air pollution below the "major source" thresholds.
The air pollutants controlled by these MACT standards are known as "hazardous air pollutants" and include 187 separate pollutants, including mercury and lead, that are known or suspected to cause cancer or otherwise seriously harm human health.
In order to keep these dramatic air pollution reductions in place, since 1995 — under administrations of both parties — EPA has required large industrial facilities to continue complying with the strict MACT standards for as long as they operate.
EPA has done so for an important reason – if a facility could simply "opt out" of a MACT standard because complying with the standard caused it to reduce its emissions below the threshold, that facility would then be free to stop or reduce its use of those required pollution controls and increase pollution once again. That would harm the health of people nearby and defeat the very purpose of the Clean Air Act.
But in January, heeding requests from a number of industry trade groups, then-EPA Administrator Scott Pruitt suddenly reversed this long-standing policy. He did so unlawfully – in a four-page memo issued without consulting with the public and without even considering the damage this would cause to our environment and public health or the disproportionate impact this would have on environmental justice communities.
The loophole is a profoundly harmful and abrupt policy decision that – according to analyses published by EDF and other organizations – could allow thousands of industrial facilities across the country to become subject to much weaker or even no air pollution controls.
Unfortunately, it's part of a larger pattern in which this administration is systematically dismantling vital Clean Air Act protections – which has included attacks on protections against climate pollution and toxic air pollution from power plants, protections on pollution from oil and gas facilities, and clean car standards.
The Air Toxics Loophole is filled with fatal legal flaws
In our opening brief, we show that:
It allows industrial facilities to "opt out" of mandatory pollution control standards in a way that is inconsistent with the language and structure of the Clean Air Act, and defeats Congress's intent in creating these air pollution control requirements.
It fails to acknowledge or grapple with the legal and policy rationales for EPA's long-standing prior policy – or even consider the potential impacts on public health.
It disregards warnings about the impacts on air pollution and public health by EPA's own staff, state environmental officials, and other stakeholders that the agency received when it hinted it might adopt a similar policy back in 2007.
EPA's failure to provide any public notice or opportunity for public comment violates a basic legal requirement for all changes in Clean Air Act regulations.
The state of California, which is also challenging the loophole, has filed a separate brief with the D.C. Circuit.
We expect the court will set oral argument for early next year – and we look forward to making a strong case against this dangerous loophole.