By Ananya Roy
A mom rubs her sons back as she murmurs softly "It's going to be OK. You are going to feel better soon.""Mom, am I going to miss baseball practice again?" Frustration lacing every word, as the young boy looked longingly at the sunshine streaming through the emergency department waiting area window. The sound of his wheezing carried across the room.
In the U.S. more than 26 million people are known to have asthma, of which 6 million are children. These are the Americans who may face situations like this one. The CDC estimates that asthma costs the U.S. economy more than $80 billion annually in medical expenses, missed work and school days and deaths.
We can and must do better.
Ground level ozone (also known as smog) is an air pollutant with well-established adverse effects on health including worsening of asthma. The Environmental Protection Agency (EPA) is required by law to set national air quality standards that protect public health with an adequate margin of safety.
It is also required to periodically review the available evidence to determine if the standard is sufficiently protective. EPA last evaluated the available scientific evidence on the health effects of ozone and in 2015 and tightened the standard from 75 ppb to 70 ppb. They estimated that the new standard would annually save hundreds of lives and prevent nearly 230,000 asthma attacks among children.
EPA is now launching the next review of the smog standard. In a comment period that closed August 27, EPA asked for policy- and scientific-relevant information that can inform the review of the smog standard. EDF filed comments to highlighting the need for a stronger smog standard, which were informed by our new report, Human Health Effects of Ozone: The State of Evidence Since EPA's Last Integrated Science Assessment, authored by Dr. John Balmes, Dr. Stephanie Holm at University of California, Berkeley and myself. The report examined nearly 300 scientific and medical studies published since EPA completed its last scientific review in 2013.
The science is clear: our current smog standard of 70 pbb is not strong enough to protect public health.
The report found that over the last five years, accumulating evidence indicates that ozone significantly increases the risk of:
Respiratory disease: reduced lung function, increased hospital admissions and emergency department visits for asthma and respiratory infections and possibly increasing rates of asthma development. School-aged children are particularly vulnerable and the majority of the studies show stronger adverse effects of ozone at this critical stage of life.
Cardiovascular disease: specifically increased rates of strokes. There is also accumulating evidence supporting ozone's effects on cardiac arrhythmia in persons with preexisting heart disease.
Mortality due to short-term exposure to ozone. Studies reviewed indicate that ozone is responsible for ~5000 deaths per year in the US and that the effects of ozone are stronger in extreme weather (hot or cold); and women and elderly are more susceptible. New studies are adding to the evidence that long-term exposure to ozone also increases rates of mortality.
These are the highlights of just some of the public health impacts due to smog pollution, which can have lasting and severe consequences and can materially impact our quality of life.
Importantly, most of the studies the EDF report examined show harmful effects occurring under the current standard of 70 ppb, demonstrating our current standard is inadequate to protect public health and that a stronger standard could further reduce harmful human health impacts from ozone.
Furthermore, the map below shows locations of the numerous studies completed across the country that show a link between ozone exposure and asthma related ER visits and hospital admissions. The states, counties and cities in red mark the areas where studies have been carried out since EPA last evaluated the evidence of effects in 2013 and indicate the wide spread impact of ozone across the country. Again much of these impacts are happening below 70 ppb. (See Table 2 of the EDF report)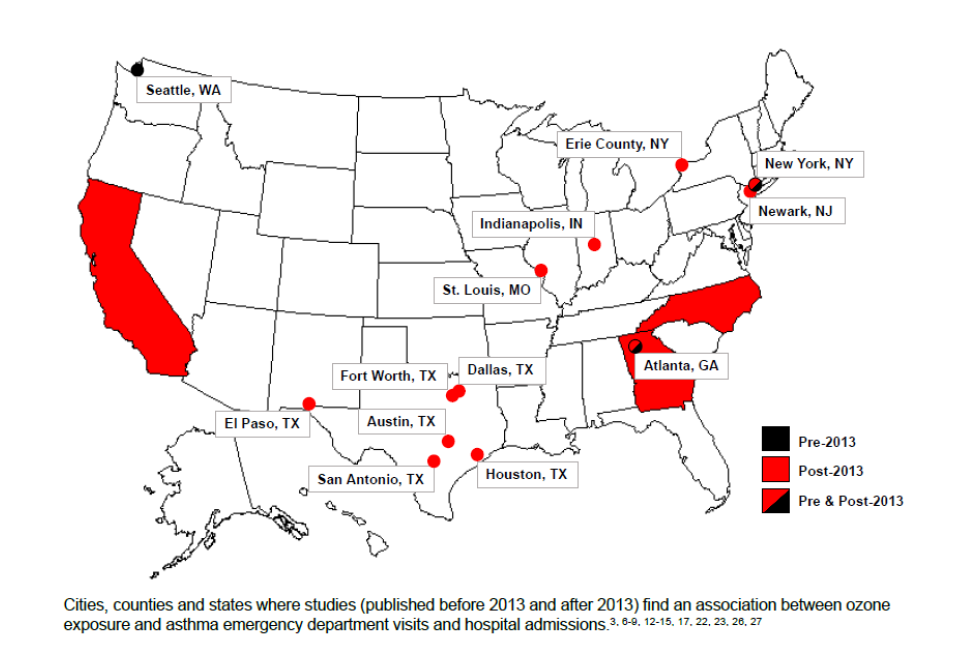 We are in the midst of the smog season and as of mid-August, there had been over 2,700 reported county-level exceedances of the current smog standard – showing smoggy days continue across the country and the need for further progress.
Unfortunately, the Trump-Wheeler EPA has sought to roll back numerous public health protections, including many that will reduce smog pollution.
EPA Administrator Wheeler must now fully and judiciously consider the incredibly strong scientific and medical evidence that shows a stronger smog standard is necessary needed to protect public health. EPA has an opportunity to save lives and improve the health of children and families across the country. EDF and our partners will be fighting to ensure EPA does so and lives up to its mission and fulfills its duty to protect public health and the environment.