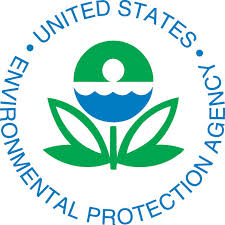 In Scott Pruitt's six-month tenure as President Trump's EPA Administrator, his administration has firmly established a reputation for secrecy and for glossing over conflicts of interest.
This pattern of making decisions behind closed doors and stocking EPA with industry representatives is problematic for many reasons, but most importantly because so many of those decisions are putting our health at risk.
Former EPA Administrator Bill Ruckelshaus — appointed by Presidents Nixon and Reagan —described Pruitt's tenure thus far:
[I]t appears that what is happening now is taking a meat ax to the protections of public health and environment and then hiding it.
Pruitt's troubling pattern of behavior has even caught the interest of the EPA's Inspector General, who recently opened an investigation into Pruitt's repeated travel to Oklahoma at taxpayers' expense. And one of Pruitt's handpicked appointees, Albert Kelly, was just penalized by a federal banking agency for "unsound practices" in his previous position as a bank CEO.
Weakening safeguards across the board
As we've documented, Pruitt has a troubling record of attacking public safeguards without providing any opportunity for public input – including protections against toxic wastewater, oil and gas pollution, climate pollution, and safety risks at major chemical facilities.
Pruitt took aim at limits on smog that would prevent 230,000 childhood asthma attacks every year. He tried to unilaterally delay these standards without any public input on his decision, until eventually he backed down in the face of legal and public backlash.
Pruitt also suspended enforcement of existing standards for pollution from oil and gas facilities without any public input. Pruitt's announcement did not even mention the harmful health impacts from halting implementation of pollution controls for 18,000 wells across the country. Earlier this month a federal appeals court overwhelmingly rejected Pruitt's move as illegal after a panel decision that deemed Pruitt's actions "unlawful," "arbitrary," and "capricious."
Undermining enforcement that holds polluters accountable 
A recent analysis of EPA's enforcement program showed that penalties against polluters have dropped by a remarkable 60 percent since the Inauguration. Not holding companies responsible for their pollution has tangible impacts in the form of more pollution, more illness, and more avoidable, early deaths.
The Trump Administration's proposed budget calls for a 40 percent cut to EPA's enforcement office, which would further hamper EPA's ability to hold polluters accountable. Meanwhile, EPA overall would face a 30 percent cut, which also puts public health at risk.
Pruitt sometimes tries to mask his focus on rolling back important EPA initiatives. For example, he claims to be concentrating on cleaning up contaminated land through EPA's Superfund program, yet the Trump Administration's budget proposal would cut Superfund by more than 30 percent.
Pervasive conflicts of interest
In Pruitt's former role as Oklahoma Attorney General, he was exposed for cutting and pasting industry requests and sending them to EPA on his official stationary. He shamelessly responded by calling his conduct "representative government in my view."
At EPA, Pruitt and his most senior advisors are now driving vital decisions about public health notwithstanding clear, severe conflicts of interest.
As just one example, Dr. Nancy Beck, the senior political appointee in EPA's toxic chemicals office, recently left her prior position at the chemicals industry's main trade association. In her current role at EPA, she has a key role in implementing the new reforms to the Toxic Substances Control Act passed last year. In this capacity, Dr. Beck is making decisions that directly affect the financial interests of companies she represented in her previous position on issues on which she advocated for the chemical industry as recently as earlier this year. The unsurprising result? Important protections are being weakened or reversed.
Pruitt's lax approach to ethics may also extend to his travel schedule. Pruitt's travel records show that he traveled repeatedly to Oklahoma at taxpayer expense, straining EPA's limited resources. (Some sources have speculated that Pruitt's extensive travel may be a run up to a future Pruitt campaign for political office in Oklahoma.) As we mentioned at the beginning of this post, EPA's Inspector General has now opened an investigation into the matter
Pruitt's appointment of Albert Kelly is another example of how he seems to tolerate behavior that other administrations would find unacceptable. Pruitt appointed the former banking CEO to lead a task force on Superfund cleanup sites. As we mentioned earlier, just this week Kelly was sanctioned by the FDIC, which issued a lifetime bar against his participation in any future banking-related activities and noted violations that involved Kelly's "willful or continuing disregard for the safety or soundness of the bank" where he was CEO. Nonetheless, Pruitt continues to entrust Kelly with the responsibility for leading efforts to reform management of the billion-dollar hazardous waste clean-up program.
Pruitt's pattern of secrecy
This summer Pruitt won the Golden Padlock Award, given by investigative reporters and editors to recognize the most secretive U.S. agency or individual.
Robert Cribb, chair of the Golden Padlock committee, noted:
Judges were impressed with the breadth and scope of Pruitt's information suppression techniques around vital matters of public interest.
Pruitt has overseen the elimination of important climate science resources that EPA previously made publicly available on its website. EDF recently received more than 1,900 items from EPA in response to a Freedom of Information Act request for climate-related information and data deleted from, or modified on, EPA websites.
Even the basics of how Pruitt spends his business hours, and with whom he spends them, are hidden from the public. Contravening a bi-partisan EPA transparency practice, Pruitt no longer makes senior management calendars — including his own — available to the public. The website comparison below highlights this sudden change:
EPA's website on January 19, 2017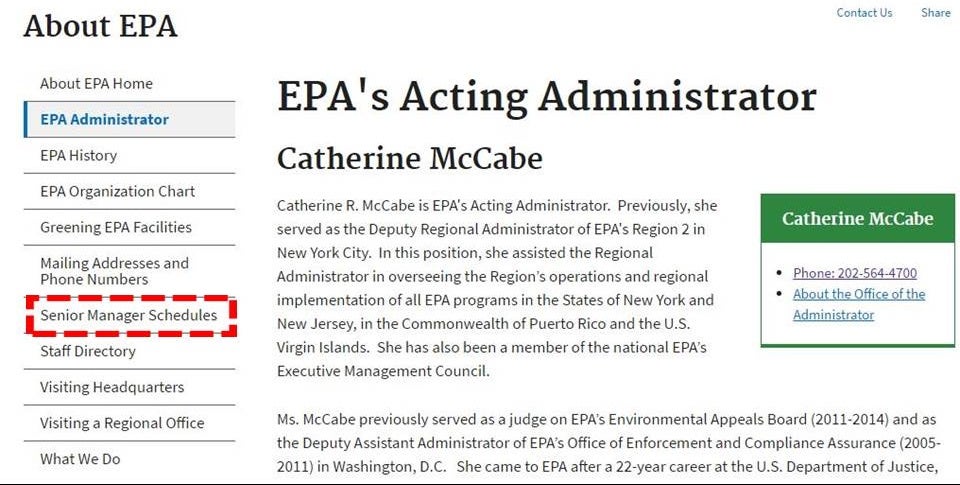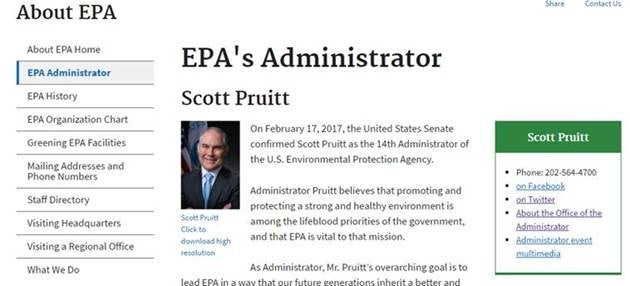 The start of Scott Pruitt's term as EPA Administrator has been marked by continuous attacks on our public health safeguards and government transparency. Perhaps it's not a surprise that Pruitt is keeping Americans in the dark about his actions, because the more we learn, the more we see reasons to be outraged. The American public deserves better from the senior leader in charge of protecting our health and welfare from dangerous pollution.