New legislative proposals on the Hill put long-standing public health, safety and environmental protections at risk.
These so-called "regulatory reform" efforts sound innocuous, but they would dramatically increase red tape and industry lobbyist influence – eviscerating bedrock statutory protections for American communities.
Take just one example – the Senate version of the Regulatory Accountability Act from 2015, which is widely seen as a potential foundation for legislation in this new Congress.
With this legislation, the development of any new protections – new clean air protections, new food safety requirements, new care standards for veterans, new child safety regulations – would be subject to a range of needless additional hurdles. And if the protections couldn't get through the hurdles in time, then the whole process would have to start again, from scratch. Important safeguards would face time-consuming, costly new burdens – burdens that would fall on the public, on businesses, and anyone trying to participate in the decision-making process.
These additional, costly hurdles will give powerful interests that can afford expensive lawyers a leg up in the rulemaking process – allowing them to delay and obstruct protections they don't like, as well as boosting their chances of fighting in court – while tilting the playing field against everyone else.
Here's a head-spinning diagram showing what the process for drafting a new safeguard would look like if this proposed legislation became law: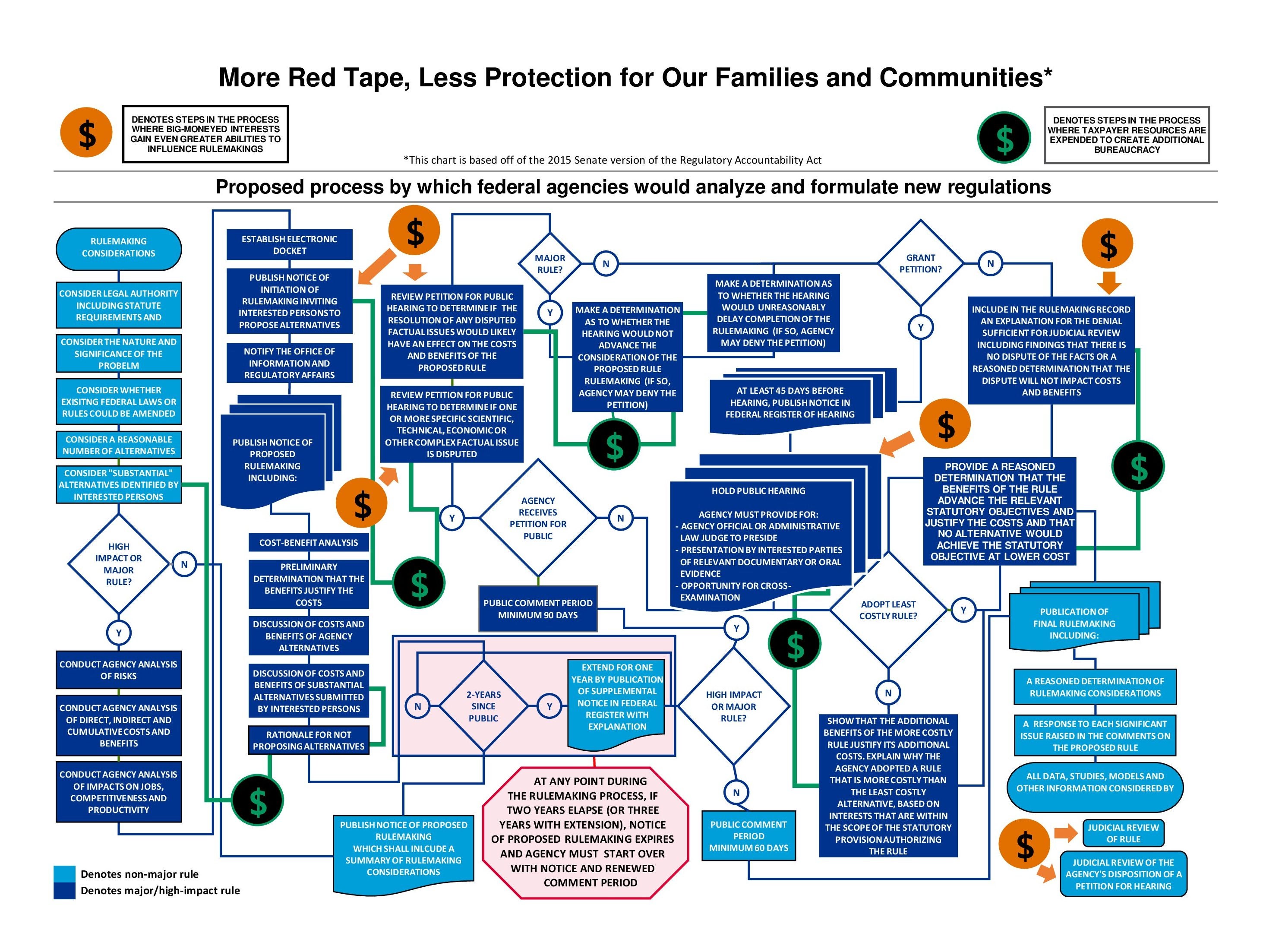 Here are just some of the burdensome new requirements included in the 2015 version of this legislation:
Paralysis by Analysis to Derail Vital Safeguards
The Regulatory Accountability Act would impose needless analytic requirements on proposed new protections that would add a heavy burden without any benefit. Agencies already exhaustively assess the costs and benefits of new protections, but this legislation would require agencies to analyze and compare a potentially limitless number of proposed alternatives to the plan they think is best, using a variety of new, additional analyses.
A new crib safety regulation, for example, put forth in response to evidence of a real threat to babies, might have to wait years while an agency completed a host of vague, undefined analyses for each alternative proposed by industry — as detailed in the diagram above. A court would then have broad authority to scrutinize the analyses' adequacy, giving industry attorneys another chance to challenge and block important safeguards.
Thumb on the Scale Against Protecting Americans from Serious Harm
Not surprisingly, within the very long list of additional requirements in the Regulatory Accountability Act, there's barely a hint of considering any of the benefits of health and safety protections – healthier and safer lives, stronger communities, new jobs in clean energy and health and safety fields, among many others.
Least Common Denominator
Under the Regulatory Accountability Act, at the initiation of rulemaking an agency would have to solicit alternatives for accomplishing the objectives of the agency "with the lowest cost." For many rules, the agency would generally be required to adopt the least-costly option considered – regardless of the benefits of the different options.
Under this reasoning, a drinking water protection that imposes no costs would beat out one that imposes $1 in costs, even if the latter yielded substantially better protection and major health benefits.
While the Regulatory Accountability Act would permit an agency to adopt a rule that is "more costly than the least costly alternative," it would only be authorized where the agency has completed additional burdensome analysis and explanation that would be subject to challenge in court – creating obvious pressure to default to the least protective approach.
More generally, this rigid requirement would override existing laws and leave safeguards more vulnerable to challenge in court from those opposed to protection.
Science on Trial
The Regulatory Accountability Act would allow anyone to request a formal hearing on the record with cross-examination of the parties over disputed facts. This addition would amount to a trial-like procedure at the proposal stage, and could be invoked in a wide range of circumstances. Echoing a theme of this legislation, the burden of proof would be against protection. There's no clarity about what counts as a disputed fact – meaning that this burdensome, needless exercise could be invoked to rehash long-settled issues about health and environmental risks.
Consider a new air pollution protection – EPA might now be subject to an entire hearing procedure to re-prove that smog causes asthma attacks and other lung diseases. This requirement would add major delays and costs to implementation of any protection, and would put industry and other moneyed interests at a considerable advantage over organizations and individuals who are less able to retain expensive lawyers and expert witnesses.
Less Science, More Cost
The Regulatory Accountability Act includes new requirements for the publication of any and all data that an agency requests, receives, or relies on during a rulemaking process. Transparency is important – and it is a foundation of current rulemaking processes. But these requirements have significant similarities with the misguided Secret Science bill that has been considered in past Congressional terms in that it is incompatible both with ethical and legal requirements to keep personal health records confidential and is designed to obstruct consideration of major rigorous peer reviewed studies that properly rely on but do not disclose private individual health data.
Safeguard Guillotine
Under the proposed legislation, if an agency cannot meet newly imposed deadlines for finalizing a rule, it gets one extension. If the agency misses the second deadline, the proposal is null and void, and the agency must start over from scratch. No exceptions — not for veterans, not for airplane safety, not for children's health, not for common sense, none. The agency must re-propose and start over from square one.
These arbitrary deadlines would be challenging to meet even under current procedures. With all the requirements imposed by this bill, anyone opposed to a new safeguard would have innumerable opportunities to drag out the process and force an agency to miss this arbitrary deadline – derailing vital safeguards and sending expert agencies back to the drawing board.
The Result: More Red Tape, Less Protection for Our Communities and Families
Why are supporters of this legislation arguing for more red tape?
The Regulatory Accountability Act is not designed to streamline and improve the regulatory process. It's designed to bog down development of any new safeguard — any new protection. This bill offers countless new hurdles that can block new safeguards, or create new grounds for litigation and lawsuits. For big polluters, that would be great news.
For everyone else, this legislation would mean more delay, more burden, and more uncertainty in establishing basic protections. Many of these requirements substantially increase barriers for ordinary citizens and small businesses to participate and inform the decision-making process. The result, in practice, would be that big-money interests would have a big edge in influencing final decisions, at the expense of small businesses and everyday citizens.