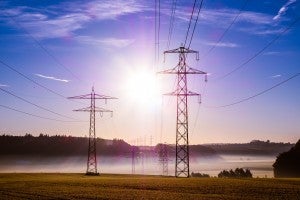 If reducing climate pollution from power plants were a football game, the U.S. team would be halfway to the goal line while fans were still singing the national anthem.
That is, we have already gotten about halfway to the expected goals of the Clean Power Plan – before the rule is even final.
The Clean Power Plan is the U.S. Environmental Protection Agency's (EPA) historic effort to place the first-ever limits on climate pollution from our country's existing fleet of fossil fuel-fired power plants. When it's finalized this summer, it's expected to call for a 30 percent reduction in carbon emissions compared to 2005 levels — but U.S. power plant emissions have already fallen 15 percent compared to 2005 levels.
That's because renewable energy, energy efficiency resources, and natural gas generation have been steadily deployed and growing for years. Even conservative estimates forecast continued growth of these resources — which makes last week's report from the North American Electric Reliability Corporation (NERC) seem really strange.
NERC's report about the Clean Power Plan's impacts on electric grid reliability makes predictions that starkly contrast from the progress we're already seeing.
How did this departure from reality happen?
It's due in large part to severely flawed assumptions underlying NERC's analysis, which yield unrealistic results.
Those flawed assumptions cause NERC to greatly overstate the generation mix changes required to meet the Clean Power Plan. The NERC Assessment's assumptions regarding energy efficiency, renewable energy deployment, and retirement modeling are at odds with both recent experience and current trends.
Unrealistically Low Energy Efficiency Gains
NERC assumes that demand for electricity will grow at an average of one percent per year through 2030, even after accounting for growth in energy efficiency investments. That growth rate is more than 40 percent higher than the U.S. Energy Information Administration (EIA) predicts.
It also fails to reflect likely energy efficiency growth. An analysis by McKinsey & Company found that implementing only those efficiency measures that pay for themselves would reduce the nation's total end-use energy consumption by 23 percent by 2020.
Arbitrary and Unrealistic Projections on Wind and Solar Expansion  
NERC predicts expansions of wind and solar power that are far below those observed in recent years.
U.S. solar capacity stood at 20.5 gigawatts at the end of 2014. The NERC Assessment predicts an addition of 13 to 20 gigawatts of solar energy between 2016 and 2030 — when solar capacity is expected to grow by 20 gigawatts over the next two years alone.
The U.S. wind industry is also expected to add 18 gigawatts of new capacity in the next two years.
NERC's low-ball assumptions greatly limit renewable energy deployment in their study. This in turn greatly increases the burden on other compliance options, namely coal-to-gas generation shifting.
Failure to Account for Dynamic Grid Reliability Management Tools
NERC assumes that the Clean Power Plan will drive coal power plant retirements over its entire life-span. However, numerous studies — including one by the Brattle Group and three by the Analysis Group, show that total output and emissions from coal units can decrease without retiring units that are needed to operate on occasion in order to maintain electric reliability.
There are also numerous tools and processes available to grid operators to ensure reliability in light of dynamic market, technological and regulatory change, including capacity and energy markets, resource adequacy forecasting, and reliability must-run contracts.
These instruments, for example, have worked well to maintain adequate capacity during the recent wave of coal-fired power plant retirements, so much so that the electric grid has added an average of roughly 30 gigawatts of total power every year since 2000. The NERC Assessment, however, finds only 11 to12 gigawatts of total power will be added every year – a significant departure from the past 15 years of evidence.
A History of Inaccurate Assessments
This report is not the first time that NERC has issued an inaccurate assessment of threats to reliability.
NERC has assessed previous public health and environmental safeguards, each time raising reliability concerns that were not borne out in reality.
NERC has repeatedly produced analyses indicating that public health and environmental safeguards will come at the expense of electric reliability – and these analyses have consistently been contradicted by reality. In fact, emission standards have never caused a reliability problem in the more than four decades that EPA has been administering the Clean Air Act.
NERC's newest report is no better. It gives no solid reasons to doubt that the Clean Power Plan will be compatible with a reliable electric grid.  
For a clearer picture of the link between reliability and environmental protections, read this post by my colleague Cheryl Roberto, a former Commissioner of the Ohio Public Utilities Commission and electric system operator.
You might also like EDF's fact sheet about the Clean Power Plan and the latest flawed NERC report.
The progress made in the past demonstrates that our nation is already approaching the goal line under the Clean Power Plan. The tremendous flexibility that the Clean Power Plan provides to states and power companies alike, together with time-tested grid management tools, provides the framework we need to reach the goal line — protecting our communities and families from dangerous carbon pollution, strengthening our economy, and providing a steady flow of cost-effective electricity.