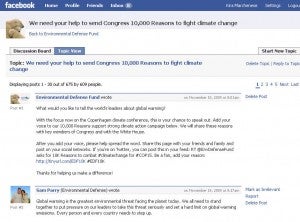 What would you like to tell the world's leaders about global warming?
With the focus now on the Copenhagen climate conference, this is your chance to speak out. Go to our Facebook page and add your voice to our 10,000 Reasons to Support Strong Climate Action campaign. We will share these reasons with key members of Congress and with the White House.
Here are just a handful of the more than 650 reasons offered so far:
Deborah Beracha of Fort Lauderdale, Fla, wrote:
Let's all join together. Global warming has to be taken seriously. Leaders need to stand up and limit global warming emissions and they need to do it now.
Ken Weitzman of Bloomington, IN, wrote:
As a father, I want to be able to answer two questions my children will one day ask:
1) Did you know?
Then, after I answer "yes"…

2) So what did you do?
Jeff Riney of Asheville, N.C., wrote:
If anything we need to do this for our kids! I dread the day that my daughter says, "thanks for the mess you left us Dad!"
Gabe Schirm of northern Colorado wrote:
The technology, the science and the will are here now. We have the solutions. We just need our leaders to do the right thing. Not later, but now.